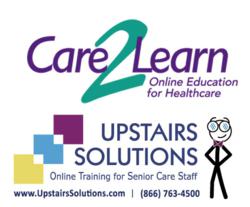 Skokie, IL and Tampa, FL (PRWEB) March 30, 2012
Upstairs Solutions and Care2Learn announced today that the two companies have merged their leading interactive, online training solutions for the post-acute healthcare industry. The new company will offer the industry's broadest and most robust e-learning and record-keeping system available.
Post-acute care providers including skilled nursing facilities, assisted living, home health, rehab and independent living facilities will have access to more than 500 accredited course modules that can be used by management, administrators, nurses and other licensed and non-licensed professionals to fulfill mandatory continuing education requirements and develop necessary professional and personal skills.
Additionally, clients will be supported by an even more robust record-keeping system (Learning Management System) to manage and track training, licenses and competencies, as combined integration will incorporate the best-of-the-best features from both companies' existing tracking systems.
The combined company will provide e-learning to 4,000 post-acute care facilities in all 50 states and Canada.
Founded nearly ten years ago, Care2Learn is the foremost provider of online continuing education and corporate compliance training solutions for the post-acute healthcare market. Upstairs Solutions is the industry's leading provider-owned company, whose principals' original goal was to improve training in their own facilities.
Tamar Abell MA, CCC-SLP, LNHA, principal of Upstairs Solutions, will serve as President of the merged organization and Tom Wallace will serve as Chief Executive Officer of VectorLearning, the parent company of the new entity. Additional details surrounding the merger will be announced in the coming year.
"We are excited to realize our shared vision of creating the premier provider of online training and record-keeping for the post acute care industry to deliver better training, tracking and results," said Abell. "Together we will deliver unique products and services that are responsive to the industry's needs and continue to seek the most convenient and flexible solutions to help our customers deliver the best quality care while saving time, money and resources."
"Our goal at Care2Learn has always been to advance healthcare education and improve resident outcomes by delivering exceptional content and services as well as unparalleled customer service," says VectorLearning CEO Tom Wallace. "One of the ways we can achieve that goal is by aligning ourselves with companies like Upstairs Solutions that share our core values and commitment to the industry as a whole. This merger enables us to expand our line of award-winning products and services and provide an even greater benefit to our existing and future clients. We are excited about the prospects of this new partnership and look forward to capitalizing on the tremendous opportunities ahead."
About Upstairs Solutions: Upstairs Solutions is a provider-owned company with the mission to continually raise the bar in senior care training. We offer more than 150 online courses, specifically developed for senior care and an easy-to-use record-keeping system (LMS) to manage and track training, licenses and competencies. Upstairs Solutions' online training is cheat-proof and uses multimedia to create engaging and interactive courses for orientation, compliance training and in-service instruction. For more information, call 1-866-763-4500 or visit http://www.UpstairsSolutions.com.
About Care2Learn: Care2Learn sets the standard for excellence in online continuing education and training for the post-acute care industry and holds more than 70 state and national accreditations. Through our award-winning healthcare Learning Management System (LMS) we offer individual courses as well as large-scale corporate training solutions for healthcare organizations featuring customizable and easily accessible online universities with a full range of tracking and reporting features. With an online library exceeding 350 courses authored by more than 150 subject matter experts, Care2Learn serves more than 300,000 healthcare professionals in all 50 states. Acquired in 2000 by leading online CE provider RedVector, Care2Learn is headquartered in Tampa, Florida and is the recipient of numerous community honors and industry rewards. For further information, call 1-866-703-9418 or visit http://www.Care2LearnEnterprise.com.
Media Contacts: Marni Gordon, Victoria Zambito