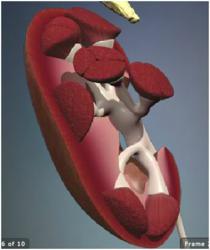 London, UK (PRWEB) March 30, 2012
Primal Pictures, publishers of the most complete and medically accurate interactive 3D model of the human anatomy, have launched Anatomy for Urology, Second Edition. This DVD-based resource offers enhanced and revised content that reflects recent innovations in urological practice and surgery, including new 3D anatomy views of the prostate, kidneys and penis in cross-section plus surgical exposure- style views of the abdomen.
"Anatomy for Urology has become an essential tool for urologists in practice, teaching and training," said Peter Allan, Managing Director of Primal Pictures. "We are pleased that this updated edition has again been developed in collaboration with the European Association of Urology, with the goal of providing complex anatomical information, an extensive surgical library, and a comprehensive source of clinical images and surgical video."
Users can choose from 80 anatomy views, including 10 new views of the whole pelvic region or views that focus on specific areas and organs including the urinary system, pelvic floor, abdomen, kidneys and lumbar and sacral plexuses. Primal Pictures' innovative interactive functions allow users to peel away layers of anatomy from skin to bone and rotate the model 360 degrees at any stage to view and identify any anatomical structure.
All structures have accompanying text and links to additional images including annotated illustrations, clinical slides, animations and surgical videos from the EAU's library.
The product includes over eight hours of surgical videos, with 38 new videos covering up-to-date procedures for the male and female bladder, urethra, female pelvic floor, kidney, lymph nodes, penis, prostate, testis and ureter.
"With its unique combination of anatomy and surgery, Anatomy for Urology is a perfect resource to support both training and practice," said Allan.
To purchase the product or view a demo video, go to http://primalpictures.com/Anatomy_for_Urology.aspx
ABOUT PRIMAL PICTURES
Primal Pictures offers the most complete, detailed and medically-accurate 3D model of human anatomy for students, educators and health care practitioners. Primal Pictures' award -winning 3D range of human anatomy, surgery and specialty titles are used for patient education and practitioner reference worldwide.