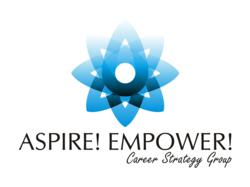 Laura M. Labovich suggests, to fix an online brand, you must first "Google yourself and, depending on the results, create a campaign to raise your rank in Google.
Bethesda, MD (PRWEB) March 29, 2012
On March 23rd, 2012, Laura M. Labovich, Founder of Aspire! Empower! Career Strategy Group spoke at Georgetown University's Professional Development Series, which took place in the Fisher Colloquium at the McDonough School of Business, in Washington D.C. The topic, Social Media Secrets for Job Seekers, was of great interest to the participants, consisting of part-time, full-time, and executive MBA students.
Over the course of the evening, Labovich shared how to implement an effective social media campaign, especially during a job search. She explained how, when fully utilized, social media enables job seekers to: track and stay ahead of trends industry changes; meet and engage with colleagues from all over the word, via Twitter chats and LinkedIn's Answers; become a leader/expert in a chosen field; access information, resources, and people; and crowd source answers to any question imaginable, and expect a reply.
Labovich shared the following Social Media Secrets with Georgetown University's MBA population:
Secret #1: It's All About the Brand:
Labovich outlined the various brands one can have online, including no brand, a haphazard brand, and a bad (or negative) brand. Of course, the most ideal brand would be one that is purposeful, proactive and tells one story across the web. Labovich suggested that in order to fix a brand, job seekers first have to be aware of the brand that currently exists online. She advises "First, Google yourself and, depending on the strength of online brand, take steps to raise your rank in Google."
Start with the following:

Buy a vanity site (GetaSocialResume.com is a good start).
Create an account on Amazon to review books and videos in a chosen field.
Create profiles on both Google and BusinessWeek Exchange.
Record and upload professional videos.
Complete Linkedin profile to 100%.
All of above actions will improve the results that will appear on the first page of Google when recruiters conduct a search.
Secret #2: Conduct a People Search, Not a Job Search:
According to statistics, less than 10% of job seekers get hired via an online job listing, so it's critical not to spend an entire job search on this approach. To access the "hidden job market" (term used to describe jobs that aren't advertised), a job seeker must be creative.
Labovich endorses the following approach:
First, identify a list of target companies (30-40 is sufficient for starters).
Uncover employee names (2-3 levels above you, within your target companies).
Do sufficient homework on company and employee, and connect with the person directly.
Job seekers should aim to build a relationship, not get a job. It's important to get inside a company, in advance of an opening, to inch closer to a job there.
Secret #3: Don't Be a Networking Glutton.
Labovich implores job hunters to be generous in every conversation and infuse traditional job search activities with some of the following actions:
End every conversation with "How can I help you?"
Refer a colleague to a position for which you are not a fit.
Reach out to colleagues, after a job change or promotion, with hearty congratulations.
Promote a favorite retail or food establishment on Facebook or Linkedin, just because.
Cultivate relationship in all conversations.
At the end of the day, any action that cultivates the relationship will move a job search forward faster.
Students touted the presentation as "eye-opening", "riveting" and "relevant and timely." Many expressed eagerness to get to work fine-tuning, and in some cases repairing, their online social identities.
To find additional social media advice, or get your question answered, view the Ask Laura! Career Advice Column.
About Laura M. Labovich and Aspire! Empower! Career Strategy Group:
Laura M. Labovich, MLRHR, Founder and President of Aspire! Empower! Career Strategy Group, is a Guild Certified Five O'Clock Club Career Coach, an award-winning résumé writer, and the co-author of the soon-to-be-published book: "100 Conversations for Career Success: Learn to Tweet, Cold Call and Network Your Way to a Dream Job" (LearningExpress, LLC.)
Aspire! Empower! Career Strategy Group (http://www.aspire-empower.com) is a full-service career consulting firm that arms high-achieving professionals with empowering job search solutions enabling them to attract more job offers, at higher rates of pay, in a shorter period of time. Aspire! Empower! offers job search strategy coaching, résumé and career marketing document development (bios, Linkedin profiles, executive summaries) social media training, and career development workshops for individuals and companies, in the Washington D.C. area, and throughout the U.S.