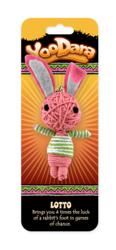 @YooDara LOVE em! hoping they bring some love & luck to the awesome @todayshow viewers...Bobbie Thomas
Prescott, AZ (PRWEB) March 30, 2012
After the show aired, Thomas gushed further about YooDara on her Twitter page stating, "@YooDara LOVE em! hoping they bring some love & luck to the awesome @todayshow viewers." A transcription of the "Bobbie's Buzz" segment as well as the video can be viewed on the Today Show's website now.
YooDara are handmade collectible good luck charms, offering positive messages special to each character, suitable for a variety of situations and lifestyles. Tribes of YooDara Good Luck Charms are grouped by their positive themes including protection, good luck, power, and wisdom.
Each character comes with an attachable disk to identify their name and power. Internet access codes on each disk provide members-only access to free games and activities.
QR codes on the package lead customers directly to the YooDara experience on the YooDara website. Dimension 9 encourages social media interaction with a strong presence on the Internet with active FaceBook, Twitter and YouTube pages, encouraging customers to participate daily.
The YooDara Network on YouTube allows consumers' videos featuring YooDara collections to be shared with the world. The YooDara FaceBook page provides interactive games, polls and contests. The YooDara Twitter page posts up-to-date product news and fun facts for followers to share with friends.
YooDara provides a unique opportunity for the retailer and its customers, driving consumer demand by promoting a complete social marketing experience.
The YooDara.com website content includes the Legend of YooDara as well as applications that allow consumers to collect and register their YooDara characters and gain experience points. Power and experience points can be shared with friends and family members through epostcards, social media posts, pictures, and videos. Future mobile applications will be available soon.
YooDara Good Luck Charms have been featured by TrendHunter Magazine, the world's number one largest, most popular trend spotting community.
To bring YooDara good luck charms to your specialty, gift, and mass market accounts throughout the nation or for more information contact Sales(at)YooDara(dot)com.
Dimension 9 is a manufacturer of quality gift products. Privately owned and operated, Dimension 9 develops and imports superior, high-quality and high-profit products. Products can be found in many prominent locations such as nationally recognized attractions and premier gift and souvenir stores, and is now growing internationally.