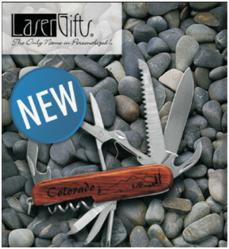 LaserGifts Multi-Purpose Tool has experienced a large increase in sales compared to last year.
Prescott, AZ (PRWEB) March 30, 2012
LaserGifts Multi-Purpose Tool has experienced a large increase in sales compared to last year. Recognizing this trend, retailers all across the country are adding it to their sales floor including top national parks, historical sites, and major tourist destinations.
Retailers can learn more about this and the entire line of LaserGifts' products to boost their sales by emailing sales(at)lasergifts.com or calling 888-674-6612.
LaserGifts is the premier souvenir and gift company in the United States today. For 30 years, it has manufactured superior, high-quality and high-profit products, specializing in name programs. Products can be found in many prominent locations such as nationally recognized attractions and popular gift and souvenir stores.
In his first private business venture, President and CEO, David Mudrick, began Orion Photo Industries, Inc. by combining his considerable photography talents with his strong personal drive and entrepreneurial spirit. After amassing a substantial collection of nature photography, he developed a thriving souvenir enterprise. This original line of scenic photo souvenirs has expanded into an original and dynamic array of gift items and name programs. LaserGifts is now recognized as the "leader in personalized" across the industry - its products considered to be staples at souvenir locations in both the United States and abroad.
Some of the best-selling name programs revolve around David Mudrick's patented method of providing personalized souvenirs including a solar powered souvenir. Note: The SolarMini, Solar Carabiner, and Solar USB are covered under numerous patents. In additon, LaserGifts wood items like the Multi-Wood Pen, Rosewood Key Ring, and Multi-Purpose Tool have become industry favorites. The Mini-Flask and 3D Bookmark programs, newly available, have generated considerable buzz among buyers, promising to be the hottest and most coveted souvenir items for 2012.
###
LaserGifts is a top manufacturer of quality gift, souvenir, and novelty products. LaserGifts currently employs over 100 people between its three facilities that make-up the company's headquarters in Prescott, Arizona, and its national sales force exceeds 200 representatives. In 2009, the business was featured as one of the 500 fastest-growing private companies on the celebrated Inc. 500 Growth Companies list. With its dedication to personal service as well as its inventive and ever-expanding product line, LaserGifts is confident in attaining goals for future growth and profitability.