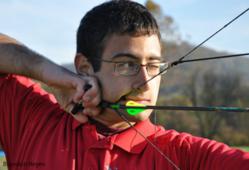 Lynchburg, VA (PRWEB) March 29, 2012
The Liberty Flames archery team is looking to add to its success last fall as they head to the National Field Archery Association (NFAA) Indoor National Championships in Louisville, Ky. March 31-April 1.
Head Coach Brandon Reyes is taking six students to the competition: Danielle Thompson, Marissa Scalzo, Josh McKinney, Joshua Willett, Alex Agnoletto and Alex Blake. Blake, Thompson and McKinney earned championships at the US Collegiate Archery Association 3-D Archery National Championships in Ohio in October 2011.
Liberty's team members will join more than 1,200 archers at the national competition.
Thompson and Scalzo will compete in the Female Bowhunter Freestyle division, while McKinney, Willett and Agnoletto will be in the Male Bowhunter Freestyle division. Blake will compete in the Male Freestyle division.
Competition begins at 7 a.m. on Saturday and Sunday. Awards are presented at the end of each group.
Archery is one of 29 sports offered as part of Liberty's Club Sports program.
Liberty University, located in Lynchburg, Va., is the world's largest Christian university. More than 12,000 students attend classes on its 6,500-acre residential campus and more than 70,000 study in its thriving online education program.