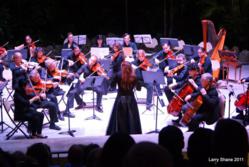 Sunny Isles Beach, FL (PRWEB) March 30, 2012
The City of Sunny Isles Beach, Cultural & Human Services Department had scheduled to host Orchestra Miami in March, but was forced to cancel due to extreme weather. This exciting event has now been rescheduled for Sunday, April 15th, at 6:30pm. Orchestra Miami will perform free for residents and guests at the City's newest park location, Heritage Park, 19200 Collins Avenue.
Set against the backdrop of beautiful high rises, and conveniently located between the Intracoastal and the Atlantic Ocean, Heritage Park's serene landscape will be pleasantly complimented by the sounds of Mozart's Overture to "The Magic Flute", Lee Hoiby's "I Have a Dream", and Beethoven's 5th Symphony. During intermission, a small ensemble from the Norman S. Edelcup / Sunny Isles Beach K-8 School will perform as well, and later, give guests an opportunity to experience the music hands on. An "instrument petting zoo" will be available for guests to walk up and see, touch, and feel some of the instruments that make up the orchestra. A variety of local artists will have displays of their work on hand, for your viewing (and buying) pleasure. Refreshments will be available for purchase.
Orchestra Miami is comprised of the finest professional musicians in South Florida, many of whom were members of the former Florida Philharmonic Orchestra. Its commitment to community and education is reflected in the series of free children's concerts, presented around the County in various venues.
Free parking is available in the Heritage Park parking garage. The City Shuttle Service will be running on a special events schedule throughout the event, beginning at 5:30pm. Sunny Isles Beach police will be available to provide safe crossing for pedestrians.