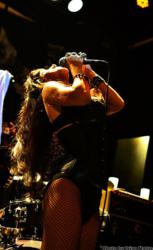 "If you like Siouxie and the Banshees or Morcheeba or are just looking for something different, this is it." -Swarm Magazine
New York, NY (PRWEB) March 30, 2012
Vajra is on fire. The band returned to NYC from SXSW and played to a sold-out audience at The Bowery Ballroom on Saturday, March 24 opening for Killcode. Performing music from their forthcoming debut album 'Pleroma,' a haunting exploration of paradox, the band mesmerized their audience with a series of dark and hypnotic songs written during Annamaria Pinna's self-imposed exile in India. Annamaria's powerful vocals were highlighted by Luke Markham on drums, Doug Wright (The Dirty Pearls) on bass, and Will Dahl (ex-Harley's War) on guitar. Eastern Indian themes wove together with melodic, progressive rock creating foreboding and mysterious lullabies. Their set included a multimedia performance with visuals from projectionist Neon Meow, featuring the art of Kaliptus, Wulfgang and Raven Noir.
Vajra played to sold-out audiences during their last two performances at The Mercury Lounge and The Bowery Electric. The band is quickly generating a buzz after releasing their first single "Inside The Flame." At SXSW, they performed two shows, and Virgin America selected Vajra's single "Erode The Will" for their In-Flight Entertainment Series.
For more information, contact: Vajra on their website at: http://www.thevajratemple.com or email at: vajratemple(at)gmail(dot)com.
Vajra currently does not have a record deal.
The singles, "Inside The Flame" and "Erode The Will" are available on iTunes here: http://itunes.apple.com/us/artist/vajra/id458093151
Contact:
Angela Blando
Vajra
845-430-6283