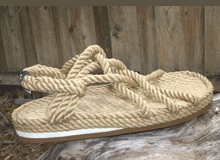 Fayetteville, NC (PRWEB) March 30, 2012
Nomadic State of Mind, a small grassroots sandal manufacturing company out of North Carolina, has a unique product line. The sandals they produce are handmade out of reclaimed polypropylene with no glue or other adhesives making them vegan friendly and extremely comfortable. The company has been in business for over a decade and over the past couple of years they have come out with a variation on their traditional rope sandal.
The "Sandal with Sole" uses their standard rope sandal and attaches a Vibram sole to the bottom providing a non skid sole and a bit of heel support. The JC with more sole has been available in their staple Camel color for some time now, but the company has recently released new colors and styles with the Vibram sole option. While many people still appreciate the barefoot feeling of the original, the Vibram sole offers a bit more protection and support for those that want it and it has been very successful since its conception.
New color options with the Vibram sole include gray, sage, and black and the company's Romano style is also available now with sole in the camel color. The Romano sandal is a great option for those people that like a little variety and creativity in their footwear. The adjustable laces on this style are completely customizable as they can be removed and switched out with seven different color laces. The Romano is definitely a one of a kind sandal!
A new sandal style is anticipated in the next several weeks as the company prepares for another busy summer season. The company will also be traveling to numerous festivals and markets throughout the season as they do every year. More information on their festival schedule can be found on their website, nomadicstateofmind.com, or at their facebook page.
About Nomadic State of Mind
Nomadic State of Mind was founded over a decade ago and is based in North Carolina. Manufacturing takes place both in Florida and in Nicaragua where the company has helped support a small community for the past eight years. Nomadic has always believed in positive contributions to the world around them and is committed to remaining true to their roots. For more information or additional art work please contact Chris Anderson or Shea McNally at 877-666-2376 or http://www.nomadicstate.com.