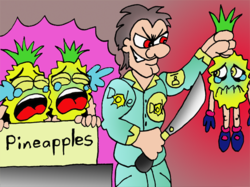 It's weird because weird works - your brain only remembers what it least expects.
New York, NY (PRWEB) March 30, 2012
After years of watching SAT vocabulary words "go in one ear and out the other," a New York City SAT tutor has launched a new firm dedicated entirely to making words stick - by any means necessary. Vivid Vocab, the newest software from Test Prep Authority, forces students to learn SAT words permanently by creating the most unexpected, and at times intentionally ridiculous, associations possible from the most common college vocabulary words.
"Your brain is notoriously bad at memorizing text. Depending on the material, people only remember about 10-15% of what they read. That's why flashcards are so ineffective," said Anthony-James Green, the creator of the software. "Your brain remembers images, sounds, and stories much better than it remembers facts and isolated words. And the weirder they are, the better."
Vivid Vocab has a strange approach to teaching students new words: it makes the definitions of the words as strange as possible. For instance, students attempting to learn the word "exuberance," meaning "unrestrained enthusiasm," are shown an image of multiple bears dancing outside of a broken zoo cage. This "ex-zoo bear dance," they're told, is due to the exuberance that the bears feel. Students are then encouraged to listen to an embedded audio file which describes the image they're looking at in story form.
"The product is weird because weird works," says Green about the mnemonics employed by Vivid Vocab. "Name what you ate for lunch on Wednesday three weeks ago. If you're like 99% of people, you can't do it. The reason? Because you eat the same things for lunch most weekdays, so your brain doesn't take the time to remember them. But name the first meal you ate the last time you went to a foreign country - I bet you can remember every condiment you used. When events are uncommon, you remember them. When they're common, you don't. We created weird images, mnemonics, and stories because unexpected images and stories stick in your head - and that's the whole point."
Vivid Vocab builds on a growing trend of eLearning companies to create interactive and "stimulus-fickle" products for their students. As students spend more time viewing television and using the internet, they're growing increasingly frustrated with the "analog" educational methods employed by most older products. If the stimulus they view isn't changed constantly, and if they're not able to interact with the tools that they use, students quickly become bored. New learning products are therefore racing to match the different needs of students growing up in the digital age.
Whether one is looking to memorize SAT vocab, Spanish, or chemistry formulas, using the brain's tendency to memorize the unexpected is always a wise approach.