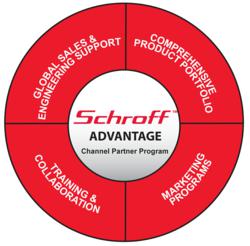 "Our goal is to provide our partners with the most all-inclusive package of product information, support and resources."
Anoka, MN (PRWEB) March 30, 2012
Pentair Technical Products' Schroff™ brand introduces its new Advantage Partnership Program. Designed to enhance complete system integration and to better serve the diverse needs of integrator partners, the program allows Schroff partners to deliver their customers trusted, reliable electronics packaging protection from an established global brand.
Schroff provides partners with efficient system integration solutions with the following benefits:
-Global Sales & Engineering Support—dedicated live and online technical support and sales presentations
-Comprehensive Schroff Product Portfolio—communication resources from the Schroff brand portal, including case studies, white papers, videos, spec sheets and detailed product data
-Prepared & Cooperative Marketing Programs—online sales presentations and professional sample advertisement, postcard or e-mail templates for promotional campaigns
-Product Training & Collaboration—free product, sales and installation training sessions featuring streaming video for an easy how-to-guide
"Our goal is to provide our partners with the most all-inclusive package of product information, support and resources," said Tim Bretz, National Manager-Systems Integrator Program for Schroff. "The Advantage Partner Program is designed as a collaborative effort to ensure our partners have the benefits they need to deliver enhanced expertise, product selection and support for their customers—providing a unique competitive advantage in today's demanding markets."
Through the new advantage program, Schroff is able to implement its products and systems solutions in the global marketplace, solving challenges for a wide range of industries and applications. By offering continuous access to product information and support, the Schroff Advantage Partnership Program enhances integration capabilities and improves customer relations.
About Pentair Technical Products
Pentair Technical Products, a Pentair global business unit, is the leading provider of worldwide product and service solutions for enclosing, protecting and cooling electrical and electronic systems. Its industry-leading brands—Hoffman™, Schroff™, McLean™ Cooling Technology—provide a broad variety of standard, modified and engineered solutions to the commercial, communications, energy, general electronics, industrial, infrastructure, medical, and security and defense markets.
For more information, visit schroff.us or contact Pentair Technical Products at 170 Commerce Drive, Warwick, RI 02886.
About Pentair, Inc.
Pentair (http://www.pentair.com) is a global diversified industrial company headquartered in Minneapolis, Minnesota. Its Water Group is a global leader in providing innovative products and systems used worldwide in the movement, treatment, storage and enjoyment of water. Pentair's Technical Products Group is a leader in the global enclosures and thermal management markets, designing and manufacturing thermal management products and standard, modified, and custom enclosures that protect sensitive electronics and the people that use them. With 2010 revenues of $3.0 billion, Pentair employs over 15,000 people worldwide.
Media Contact: Kelley Schreiber (Next Communications). Phone: 952-934-8220. Email: kelleys(at)nextcom(dot)com.