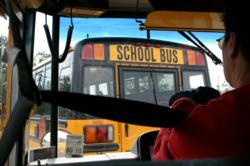 Less than 5% of child molesters have a criminal record.
Jacksonville Beach, FL (PRWEB) March 30, 2012
"I applaud school districts around the country for looking for ways to keep the kids safe. But background checks that strictly review driving history, criminal history, or looking at the sex offender registry and other databases won't identify all the adults that pose a threat to children," stated Don Dymer, president and chief executive officer of SingleSource Services background screening corporation.
Don Dymer was commenting on recent stories in the news, including Governor Branstad's upcoming signing of Iowa's new state law mandating school bus drivers undergo a background check before being hired. Statistics from the Child Molestation Research & Prevention Institute tell us that less than 5% of all child molesters have a criminal history. The Institute through years of research also points to the fact that 90% of all children are abused by people they know, trust and love. Because of that convoluted association of child, parent and abuser, the sexual abuse goes unreported. The vast majority of child abusers won't be found in the system because they have no fingerprints or criminal history that would tie them to child sexual abuse.
Checking into the past won't help prevent children in the future from child sexual abuse. The Foundation Darkness to Light also has done studies suggesting far fewer than one third of child abuse incidents are ever even identified or reported in any official capacity.
Don Dymer, after years of research has found a tool to help augment traditional background screening tools and for the first time, serve as a reliable predictor into the future and indicate if an applicant poses a sexual threat to children and youth.
A test that to a high scientific degree of accuracy alerts you that this is a person who should not be placed in a position of trust with children and youth. The test meets the goal set by The Centers for Disease Control and Prevention who have stated, "To select the best possible people for staff and volunteer positions and to screen out individuals who have sexually abused youth or are at risk to abuse."
Don Dymer and SingleSource Services is taking The Diana Screen® to help agencies, businesses and anyone involved in the care and nurturing of children, weed out men and women who have committed sexual abuse or will pose a sexual threat to children left in their care.
"What boggles my mind is how difficult it is to get school boards, and youth organizations to understand how vital this test is as part of an overall background screening process for anyone hiring or adding volunteers to environments where children's safety is in jeopardy. They are so close to closing the huge whole, but without the Diana Screen® there is a giant loophole in the process."
The assessment takes 30 minutes to complete, is completely confidential, the results cross validated 200 times. The test asks the sexual risk questions that staff do not have the experience to even ask. Not all people who fail are child abusers - some are enablers, those who lack the ability to recognize inappropriate behavior when they see it all around them. These people contribute equally to the sexual abuse of children.
The Diana Screen® is supported by 18 years of research by Abel Screening in Atlanta, Georgia and two long-term pilot studies with the Episcopal Church Pension Fund and the Boys and Girls Clubs of America. It is also endorsed by the Foster Family-based Treatment Association.
To understand how to include the Diana Screen® in your background screening program call Don Dymer at SingleSource. Find out more by visiting their website, http://www.singlesourceservices.com. It is a five minute call that can save your organization and save a child from a lifetime of horror.
SingleSource Services is located in Jacksonville Beach, Florida.The company provides background screening to over 2,500 business across a wide variety of industries and nonprofit organizations. SingleSource was founded in 1995 believes that backgrounds are like fingerprints and provides human resource management tools and prides itself on its customer relationships and strong commitment to fulfill its corporate civic duties.