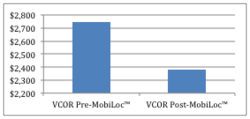 Being able to show a business the impact of enforcement of a cell phone policy MobileLutions can prove it's worth. Larry Eppard, Founder
Dallas, TX (PRWEB) March 30, 2012
MobileLutions announced today, the ability to create a Vehicle Cost-of-Risk (VCOR) Analysis for large business clients using the MobiLoc platform. While it is generally believed that not using cell phone will improve the safety and reduce the number of accidents for a business, the question remains what is the true impact of preventing distracted driving with enforcement of a cell phone policy. MobileLutions now can produce that answer for customers.
An employee/vehicle cost of risk impact can be associated with several factors:
1. the number of miles driven per year.
2. the number of years of experience of the employee with the organization.
3. the age of the employee.
4. the state in which the vehicle is predominately driving which can proxy tort law.
The first stage of our reporting is a two-dimensional image focusing on the effectiveness of MobiLoc™ as a risk control solution. The example chart explores VCOR relative to the adoption of MobiLoc™ before and after.
The second stage is a more complete empirical approach that supplements the before and after effects of MobiLoc™ adoption with the managerial variables of importance. MobileLutions includes measures, which our review of prior research has shown to be associated with VCOR along with the customer's risk management team experience, intuition and interests.
A more complete understanding of whether the relationships between loss incidence and loss severity and the set of factors thought to be associated with their outcomes can be best understood with our regression based techniques.
MobileLutions is a leader in providing software solutions to prevent distracted driving accidents and reducing corporate exposure to this risk. The MobiLoc solution is built to enforce and monitor company a cell phone policy across the organization for a standard enforcement. The solutions is available on the iPhone, Blackberry and Android smart-phones. See more at http://mobilelutions.com.
# # #