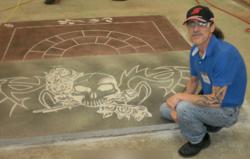 ...it's amazing but we are already on page one of Google for the term "concrete contractor Brampton" so we're hopeful that residents in the Toronto area will find us online and give us a call
Brampton, Ontario (PRWEB) March 29, 2012
Concrete contractors now have a new resource to build their local web presence in Canada. LocalHood.ca has recently added a sub-category specifically for residential concrete contractors on its website.
LocalHood.ca is Canada's leading web presence directory offering local advertisers a dedicated web page on its search engine friendly website. An advertiser's LocalHood.ca webpage allows them to feature a detailed description of their products and services, a map to their location, an image gallery, a streaming video and all core business contact information including a link to their company website.
Many local contractors still do not have a website and their place page on LocalHood.ca can serve as their complete web presence. The directory is presently in beta release and only adding advertisers on a select basis until the site officially launches later in 2012. Commercial and Industrial contractors can also list their business information on the site, but the addition of residential contractors to its House & Home category is new for LocalHood.ca.
One of the first business owners to jump on board is Jeff Dawe who operates a decorative concrete service in Brampton, Ontario. Mr. Dawe's company operates under the name Unique Engraving and their specialty is concrete engraving using the patented Engrave-A-Crete & Kaleidocrete system.
According to Dawe, "We are the first in Ontario to offer this type of concrete resurrection and our economical engraving process is a definite property improvement for homeowners." Dawe claims that their engraving process is fast and clean with unlimited designs & patterns available for both commercial and residential properties.
Unique Engraving hopes to get the word out about their service and their listing on LocalHood.ca is just one more step in building their web presence. "It's amazing but we are already on page one of Google for the term concrete contractor Brampton so we're hopeful that residents in the Toronto area will find us online and give us a call," said Dawe.
The LocalHood.ca directory can also feature contractors from other verticals but the site is concentrating on building out its categories and subcategories for homeowner services. As part of its initiative the site has also set up a sample listing for a business located in Mississauga Ontario that has already received a top organic placement for the keyword search phrase concrete contractor Mississauga. Search phrases that include a city or neighborhood name (or other geo-term) suggest a higher level of commercial intent.
About LocalHood.ca
LocalHood.ca is an emerging, local web presence business directory that has recently launched as a live beta site. LocalHood.ca presently hosts location based information for a variety of Canadian businesses in addition to local event listings and classified ads.
"LocalHood" is a LocalHood Marketing trade mark. For more information, go to LocalHood.ca. Questions can be directed to (289) 752-7335 or toll free 1-888-975-9222 email: info(at)localhood(dot)ca
Wilf Barnes
LocalHood Marketing
289-752-7335