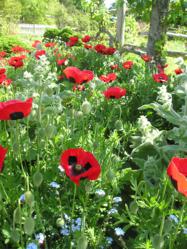 Lebanon, Pa. (PRWEB) March 31, 2012
In the garden, the early bird who catches the worm is often the gardener. If this appeals to you, consider focusing on certain tasks in the cool of spring. With a bit of strategy you can stave off days of sweaty work during hot summer months. April is a good time to grab hat, gloves and pruners and get out in the garden. Following are "Garden & Landscape Tips" from preen.com.

April is planting time for cool-season vegetables such as spinach, lettuce, broccoli, carrots, beets, cabbage kale, onions and radishes. All will tolerate light frosts and overnight temperatures in the upper 20s. Though these plants can take cold weather, they'll grow more quickly if they are covered with garden fabric for the first 3 to 4 weeks.
April is also the time to dig and divide perennials that may have outgrown their current location. Dig up the entire clump and either pull the plant apart into several sections or use a knife or spade to slice it into pieces. Replant the best clump into the garden at the same depth, and plant extra clumps into pots to share. Apply Preen garden weed preventer around perennials to keep new weed seeds from sprouting.
Trees and shrubs should be transplanted in early spring before they begin active growth. The earlier they can be moved, the more likely they'll survive the transition. Dig carefully, getting as much of the root ball as possible and replant immediately at the same depth. Water weekly for the first year as you would with a new plant. Have room for a new tree? National Arbor Day is the last Friday in April and local organizations often offer a good assortment of trees, priced nicely.
Track April showers by installing a rain gauge. Vegetable gardens benefit from about one inch of water per week. Knowing how much rain has fallen will tell you when and how much you need to water.
Scatter annual poppy seeds in flower borders. There's no need to cover the seeds. Plants grow quickly and will be flowering by mid-summer. California poppies, corn poppies, Shirley poppies and Iceland poppies all provide an abundant supply of nectar for bees and add a casual charm to gardens.
Now is the time to shear evergreen hedges. Roses may be pruned just as the buds begin to emerge. Prune out any weak or damaged canes and shorten canes to create a fuller look.
By giving summer-flowering bulbs a head start, you can begin enjoy flowers as much as a month earlier. Pot up tuberous begonias, caladiums, cannas and dahlias in one-gallon containers and water well. Grow plants in a cool, bright area indoors, but out of direct sun. Water only when the soil feels dry and apply a water-soluble fertilizer according to label directions. Once all danger of frost has passed, gently transplant the bulbs into their summer locations.
To minimize weeds in landscape beds, apply Preen Mulch Plus around trees, shrubs and perennials to prevent weed seeds from sprouting for up to six months.
Preen is the leading brand of garden weed preventers. Preen products don't kill weeds; they are weed preventers. They stop new weeds from germinating.