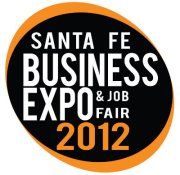 Santa Fe, New Mexico (PRWEB) March 29, 2012
Networking and job opportunities are back in Santa Fe once again with the return of the 2012 Santa Fe Business Expo and Job Fair. Scheduled to run from 10 a.m. to 4 p.m. on Thursday, April 5 at the DeVargas Center, the event features dozens of local businesses, giveaways, travel information, health resources, a live radio broadcast from a local company Hutton Broadcasting radio station and a fashion show.
This is a Santa Fe Chamber of Commerce Event. Sponsors for this event include Century Bank, the First National Bank of Santa Fe, Hutton Broadcasting / SantaFe.com, New Options New Mexico, The Santa Fe Reporter, Green Fire Times, New Mexico Business Weekly, Encantado, An Auberge Resort, The Santa Fe New Mexican and Comcast.
There are currently eight booth spaces available from the original 80 allotted for the event. Because this is a sell out event every year, the remaining spaces likely won't last long. Featured businesses for this event include Ad Ventures, Advance Tax Services / Southwest Accredited Professionals, Albuquerque Police Department, AmeriPride Services, AspenBeach Consulting LTD, ATA Services , Inc., Avon – Sherri Campos, B Beautiful Luxury Salon & Spa, Bienvenidos, Canyon Gate Real Estate, Century Bank, CHRISUS St. Vincent Regional Medical Center, Comcast Business Services, Constellation Home Electronics, Dynamic Enterprises, Eclipse IT Solutions, Eldorado Hotel and Spa, Entantado, An Auberge Resort, First National Bank of Santa Fe, Green Fire Times, Hutton Broadcasting / SantaFe.com, Inner Mind Sourcing, Leadership Santa Fe, Marcia Owen Associates, Santa Fe Staffing, Melissa Pessarra/State Farm Insurance, Modrall, Sperling, Roehl, Harris, Sisk PA, Names & Numbers, New Mexico Business Weekly, New Mexico Wine Tours, New Options New Mexico, New York Life, NM Business Leadership Network, Northern Insurance Inc., Payday, Inc., PNM Business Energy Efficiency Program, Presbyterian Medical Services, Rocky Mountain Business Systems, Ruidoso Convention Center, Santa Fe Academy d.b.a. Vogue College, Santa Fe Business Resources, Santa Fe Community College, Santa Fe Community College Business Services and Purchasing, Santa Fe New Mexican, Santa Fe Reporter, Santa Fe Workforce Connection, Sierra Vista Alzheimer's Community, Silver Sage USA, Small Business Administration, Small Business Development Center, State Employees Credit Union, The Candyman Strings and Things, The New Mexico Center for Therapeutic Riding, Verizon Wireless and Wells Fargo Bank.
For more information about this event interested parties are encouraged to visit the Santa Fe Chamber of Commerce Website or to call (505) 988-3279
About The Santa Fe Chamber of Commerce
The Chamber is the number one business resource citizens look to in the Santa Fe community. The area's economic well-being is directly related to the caliber of work performed by The Chamber. The Chamber's number one priority is to help member businesses grow and make Santa Fe a great place to do business, including working with government agencies to develop cooperative programs that foster a positive climate for economic development, supporting the tourism industry which generates millions of dollars in the Santa Fe area, working to streamline permitting processes, bringing together community members around issues affecting business and economic development such as transportation, infrastructure, technology, health care, education, and legislation, working for government policies that promote rather than inhibit business growth, and producing the Santa Fe Business Expo which brings together hundreds of local business in April each year. The Santa Fe Chamber's mission is to strengthen the local economy and serve as the Voice of Business in community affairs.
Santa Fe Chamber of Commerce
PO Box 1928, Santa Fe, NM 87507
(505) 988-3279
About SantaFe.com
SantaFe.com provides Santa Fe and visitors to Santa Fe alike the most current interactive platform for events, music, arts, business, dining, and lifestyle. SantaFe.com is a division of Hutton Broadcasting, located at 2502 C. Camino Entrada, Santa Fe, NM 87507
Contact Information:
Scott Hutton
SantaFe.com / Hutton Broadcasting
http://www.santafe.com
(505) 471-1067 (Media inquiries only, please)