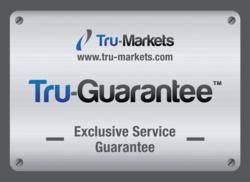 With this exclusive guarantee, the company demonstrates an unconditional willingness to stand behind their work.
(PRWEB) March 30, 2012
Tru-Markets eliminates seller's remorse with the launching of Tru-Guarantee, the first service guarantee for sellers using online auction services. Tru-Markets, an online marketplace for surplus and salvage, announced the launch of Tru-Guarantee, an unprecedented service guarantee for sellers using auction services. The exclusive Tru-Guarantee program provides sellers with a unique service commitment unmatched in the industry. Tru-Markets will waive fees for any customer selling surplus or salvage that is not completely satisfied with their service.
"We are committed to exceptional service and we are accountable to our customers," explains Chad Farrell, Managing Partner at Tru-Markets. "If a customer is not satisfied with our service in executing a sale, we will waive the fee – period. Too often in this business, auction companies collect a commission regardless of the quality of their service. The Tru-Guarantee says to our clients 'Rely on our promises; take comfort in our guaranteed protection.'"
The Tru-Guarantee was developed to address the concerns of the seller that expects a high level of service for asset disposition and desires the peace of mind of working with a partner that has "skin in the game." With this exclusive guarantee, the company demonstrates an unconditional willingness to stand behind their work.
The founders of Tru-Markets believe that trust is a critical element in a strong and healthy marketplace. Tru-Markets builds trust every day in the sale of surplus and salvage for buyers and sellers using their innovative marketplace platform. Buyers and sellers are frequently taken for granted by intermediaries and have no recourse if they receive poor service. The Tru-Guarantee demands discipline and quality execution in asset sales and provides sellers with an additional level of security in the $85 billion a year market for surplus equipment and salvage goods.
About Tru-Markets
Tru-Markets is an online marketplace for buyers and sellers of energy equipment, heavy equipment and commercial salvage, founded on the vision of delivering the highest level of service in the industry. The company is based in Houston,TX, and focuses on the capital asset divestment needs of Fortune 500 Companies and Major Insurance Underwriters. The company acts as a salvor for insurance salvage which includes the salvage sale of goods for marine claims, cargo claims, and property claims via salvage auctions. In addition, Tru-Markets specializes in investment recovery and surplus auctions for surplus energy equipment. Each sale of surplus energy equipment through Tru-Markets is managed by one of the most respected experts in the industry.
For more information, or to schedule an interview with Chad Farrell, please contact JD Daunt at (855) 879-8786 ext. 700 or email jdaunt(at)tru-markets(dot)com. For general information, please visit http://www.tru-markets.com.