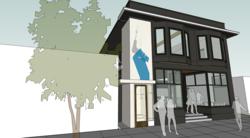 "Choose your poison. Whether it's global climate change, dependence on foreign oil, or rising energy prices, we need to retrofit our buildings so that their performance is worthy of the 21st century," said Sam Hagerman, co-owner of Hammer & Hand
Portland, Oregon (PRWEB) March 30, 2012
Portland builder Hammer & Hand and designer Scott|Edwards Architecture announced today a green building project that offers a new model for affordable transformation of existing commercial buildings' energy performance. The Glasswood commercial Passive House retrofit will create office space that consumes 80% less energy than its conventional counterparts at an added cost of just $15/SF. For the first time in the United States the Passive House building energy standard will be applied to the retrofit of a commercial structure.
"Our building sector consumes nearly half of US energy," says Sam Hagerman, co-owner of Hammer & Hand and President of the Passive House Alliance US. "Choose your poison. Whether it's global climate change, dependence on foreign oil, or rising energy prices, we need to retrofit our buildings so that their performance is worthy of the 21st century."
The question until now has been, "how?"
Thanks to recent advances in building science and our understanding of how buildings function as dynamic systems, builders and designers can now address this question effectively. Passive House and PHIUS+ certification sit at the vanguard of this application of knowledge and technique.
The term "Passive House" comes from the German "Passivhaus", which literally translates as "Passive Building". The standard combines advanced energy modeling with a suite of relatively straightforward construction and design principles to revolutionize the performance and comfort of buildings, from single family homes and apartment buildings, to schools and commercial structures.
Though scores of Passive House projects have been completed or are underway across the US, a Passive House retrofit of a commercial building has never been done before.
"We have a unique opportunity here to both 'upcycle' an existing, historic building," said Peter Grimm, architect with Scott|Edwards Architecture, "and to fundamentally transform the way it performs and functions, both from an energy perspective and a human one."
The Glasswood project employs the core principles of Passive House design:

Extensive insulation,
Elimination of "thermal bridges" that transfer heat or cold across the building envelope,
Airtight construction,
Continuous ventilation that recovers heat or cool energy,
High performance doors and windows,
Optimized solar and heat gains, and
Sophisticated modeling.
"While the science and modeling behind Passive House is advanced, the suite of techniques used to get there is elegantly simple," said Hagerman. "It's this simplicity that allows for the cost-effective transformation of a building's performance and comfort. Glasswood promises to provide actionable lessons to builders and designers of commercial spaces across the country."
Details about the Glasswood Passive House retrofit, including updates, progress videos, and site photos, can be found by visiting Hammer & Hand's website at http://hammerandhand.com/glasswood-passive-house-retrofit
About Hammer & Hand
Hammer & Hand is dedicated to stewardship of the built environment through craft and science, everything from traditional kitchen remodels to home energy retrofits to cutting-edge Passive House structures. Based in Portland, Oregon, the remodeler and builder can be reached at http://hammerandhand.com or by phone at 503-232-2447.
About Scott|Edwards Architecture
Scott|Edwards Architecture is a Portland, Oregon based architecture firm built on the premise that innovative design solutions result from a collaborative effort between architect, client and craftsperson. The firm leads its clients on an exploration of possibilities guided by traditional principles of design clarified through a contemporary perspective. S|E A can be reached at http://seallp.com or by phone at 503-226-3617.