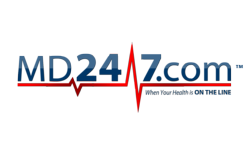 We are ready to hire veterans.
Tampa Florida (PRWEB) March 30, 2012
Telemedicine specialist MD247 understands that citizens of the United States have an innate ability to suffer moments of mass amnesia when dealing with the members of the military returning from unpopular military campaigns. The low point as a nation came with the reception given to service men and service women with who served in Vietnam. Things have improved since the days of spitting on those who served, and packing them into horrifyingly outdated Veterans Adminstration hospitals, but the world is not perfect and it is time for solid citizens to step forward and say "never again." MD247 is prepared to make a difference, fighting the scams that returning heroes are forced to encounter and providing fifty (50) veterans jobs within the MD247 telemedicine company under the "Hiring our Heroes" program.
After a recent review of common problems faced by veterans, the MD247 family determined that it was not comfortable with the knowledge that those who served now had difficulty maintaining a stable residence and very often are unable to afford medical attention. The reason for it all can be directly tied back to the economy, as well as the reality that employers jettisoned a long standing policy of always holding jobs for members of the National Guard or Reserves who were activated. The lack of jobs upon return has left all veterans scrambling for employment, looking very often outside of their area of training and finding a lot of scams requiring the veteran to pay for a job.
MD247 has the opportunity to turn things around one person/family at a time with a specific desire to review, and hire, fifty (50) military veterans from any branch of the armed services. All new MD247 jobs for the "Hiring our Heroes" program will be directly associated to either the MD247 healthcare administrative team, or the call center staffing. While some companies would think "jobs are enough," the MD247 family wants all veterans to know that MD247 wants to help ALL veterans in any way possible.
All veterans are encouraged to submit a resume via the MD247 Facebook Business Page.
MD247 is a twenty-four hour a day affordable concierge telemedicine company based out of Seminole Florida. All members have unlimited twenty-four hour telephone access to a nationwide medical support team with just a phone call. MD247.com has a virtual platoon of Registered Nurses and board certified physicians in each and every state available to members for ALL non-emergency situations. You can learn more about MD247.com by visiting http://www.md247.com.