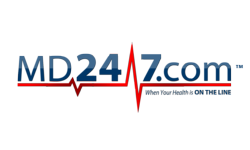 Let MD247 protect the health of your pet!
Tampa, FL (PRWEB) March 30, 2012
Telemedicine specialist MD247 provides affordable healthcare "peace of mind" to the mixed faces living under one roof, for a single fee, but it occurred to the discount healthcare provider that the program neglected the health of family pets. In order to truly protect the "entire" family, MD247 has announced the launch of a new discounted veterinary service program called Pet Assure. The Pet Assure program provides participating members discounts of up to 25% off of veterinary care, up to 35% off of pet supplies and a Lost Pet Recovery Service.
According to a recent study, 63% of all households in the United States have at least one pet, while at least 31% of all households in the United States have more than one pet. Families with a beloved dog are spending up to $2,000.00 annually keeping "Fido" running around with the kids, a total which includes both regular veterinary visits and the inevitable surprise veterinary expenditures. Pet Assure brings the expense down, and ensures that every family has their four-legged provider of unconditional love around for year to come.
Current MD247 program members, and people considering joining the MD247 program, are encouraged to visit the Pet Assure website at http://www.petassure.com to learn more about the veterinary discount program. MD247 reminds that Pet Assure is not an insurance program for the family pet, meaning that discounts can be greater and no family pet will ever be excluded.
MD247 is a twenty-four hour a day affordable concierge telemedicine company based out of Seminole Florida. All members have unlimited twenty-four hour telephone access to a nationwide medical support team with just a phone call. MD247.com has a virtual platoon of Registered Nurses and board certified physicians in each and every state available to members for ALL non-emergency situations. You can learn more about MD247.com by visiting http://www.md247.com.