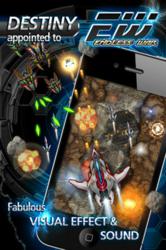 Seoul, South Korea (PRWEB) March 30, 2012
Omnitel Inc's has announced the release of Endless War for the iTunes Appstoer. Endless War is a space shooter "bullet hell" title that is aimed at casual players and more experienced gamers alike. With fifteen challenging stages, an impressive arsenal, and numerous upgrades and enhancements available, Endless War promises to be an adrenaline-charged joyride for iOS shooting game fans.
The game's appeal comes from its polished execution of the traditional space-shooter genre theme. Endless War offers a wide range of enemies, each of which has its own various tactics and weaponry, in a non-stop outer space slaughter designed to appeal to action-hungry game lovers. A smooth upgrade system complements the player's satisfying selection of ships, weapons, and upgrades, giving the game substance as well as the requisite fireworks.
Players choose one of three ship types for each of their fighting profile (they may save up to three profiles simultaneously). Each ship can be individually armed and upgraded according to the player's choice of tactics and available in-game currency. Game coin currency is earned by defeating stages, and can also be obtained via in-app purchase. Six different types of firepower, ranging from machine guns and missiles to plasma rays and guided lasers make up the player's arsenal, while an item shop offers additional goodies like black holes, resurrection tokens, and matrix time warps.
Endless War is a sensational space shooter packaged with gorgeous graphics, beautifully textured environments, and a high-quality, high-energy soundtrack. It is available for download in the iTunes App Store now, for $0.99.
Features
-3 different fighter profiles can be saved, giving players the opportunity to experiment with different equipment and tactics
-3 types of aircraft, each offering its own unique combat experience
-Develop attack power using 6 different weapons (4 primary and 2 expansions)
-Enhance capabilities through weapons, ship, and shield upgrades
-Utilize a variety of items—black holes, matrix time warps, HP boosters, shield boosters, resurrection tokens, and more
-Charge stamina bar to make devastating shock-and-awe wide-range attacks
-Touch based controls are intuitive and simple to pick up and play
-OpenFeint is enabled for 24 hour rolling stats
iTunes Appstore: http://itunes.apple.com/us/app/endless-war/id496806078?mt=8
iTunes Appstore Lite: http://itunes.apple.com/us/app/endless-war-free/id496813041?mt=8