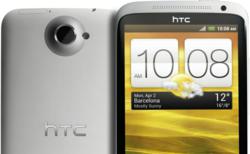 HTC's One X smartphone has certainly struck a chord with Expansys.com's customers
Marlow, Bucks, UK (PRWEB UK) 30 March 2012
HTC's One x smartphone is arguably 2012's most wanted handset so far. Pre-orders for the new phone, which was announced at Mobile World Congress in Barcelona last month, have been the highest for any model this year, according to leading online technology retailer Expansys.com.
The One X is the first on HTC's new One series of Android powered smartphones to arrive in stores, and interest has steadily risen since it made its debut at the trade's biggest event. Now with the official release date having been confirmed by the Taiwanese manufacturer as the 5th of April, interest looks set to continue to heighten.
Industry experts have warmly praised the One X, helping increase expectation amongst buyers. Expansys.com points to the phone's use of the latest premium features such as a large 4.7 inch screen, quad-core processor and latest version of Google's increasingly popular Android software as reasons for the surge in interest amongst its clientele.
"HTC have certainly struck a chord with our customers and no doubt with tech fans across the country with the One X" commented Anthony Catterson, CEO of Expansys. "It has been the strongest performing pre-order product in 2012 thus far. We've been delighted with the strong response, though not surprised as the One X was certainly one of the stand-out products at MWC" he added.
Such a positive reception from both critics and the public alike is validation for HTC's renewed efforts to produce a reduced range of more focussed, high-quality smartphones. HTC's One X is available for pre-order now on Expansys.com, ready to be dispatched on the 5th of April. All pre-orders taken now include a free Krusell screen protector in the package.
One of the most popular Android phone manufacturers of recent years, HTC look set to start 2012 strongly in their continuing battle in the smartphone marketplace against other big names such as Samsung and Motorola, as well as Apple's iPhone.
###
Editor's notes:
About Expansys.com:
Expansys is the only truly global online retailer for consumer mobile technology, and wants to become the preferred choice for customers worldwide. Believing that technology can change your life, Expansys' teams discover, review and sell the latest and hottest products, such as phones, tablets and laptops, from all the world's leading technology manufacturers across 60 international sites in 16 languages.