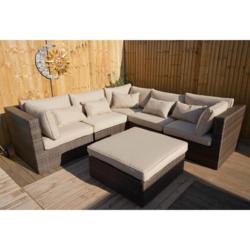 Rattan garden furniture sales boosted by above average temperatures.
(PRWEB UK) 31 March 2012
The unexpected heatwave in March has brought an early boost to sales of barbecues and garden furniture with demand for rattan garden furniture in particular exceeding all expectations for the time of year.
With increasing talk of the low rainfall and the threat of droughts, the unseasonally average temperatures have swept the nation into a feeling that Summer's here and it's hard to believe the clocks were altered just a week ago; with a jolt back to reality that we're only in March when you see the blossom on the trees and the daffodils in full bloom.
Reading based Garden XL has been a supplier of garden furniture, barbecues and accessories for many years.
They are well known for their wide range of garden furniture, barbecues, wellies, water features, outdoor heating and much more. With well known brands such as Alexander Rose, Leisuregrow, Westminster and Weber to name but a few, they offer a comprehensive range to suit everyone. Their extensive garden furniture ranges include the popular rattan garden future, as well as more traditional teak garden furniture, textilene garden furniture and cast aluminium garden furniture ranges; whilst the BBQ ranges include a wide selection of traditional gas BBQs and modern gas BBQs with well known brands such as Weber BBQ, Outback BBQ, Leisuregrow BBQ and many more.
Garden XL Manager and owner, Gordon Parry adds: "Our business is all down to seasonality and having the right good quality products available at the right time for our customers. We've been delighted by the early unexpected heatwave as sales have more than doubled on all our garden furniture ranges and in particular the demand for BBQs has had an unexpected boost – both for traditional charcoal BBQ and gas BBQs.
"People are looking for more out of their gardens than they did a few years ago. Alfresco eating has increased in popularity over recent years and is no longer the domain of Mediterranean holidays."
More and more people are enjoying their gardens – whether it's people with young families, retired couples, or people just wanting to enjoy their garden at the end of a busy day – it's become an extension of our homes, a place of sanctuary and in true British style we are as proud of our gardens as our homes.
Barbecues have moved on from a functional tool. With some people preferring the traditional charcoal barbecues to the many sophisticated high-tech gas BBQ ranges on the market.
"It's all down to individual choice with barbecues. Some people prefer the traditional charcoal barbecues, but sales in gas barbecues are increasing year on year and growing in popularity for their ease of use and more enhanced features appearing every year.
"With 2012 becoming the year to celebrate – the forthcoming Diamond Jubilee celebrations, not to mention the Olympics in the Summer - people are choosing to invest in good quality garden furniture to enjoy their gardens from traditional teak garden furniture to modern and stylish rattan garden furniture. The unseasonal temperatures have been a great start to the season and we hope it continues in the many months ahead," concludes Gordon.