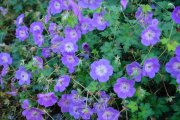 "Gardeners have always swapped plants. Our website helps gardeners swap locally."
Gloucester, MA (PRWEB) March 30, 2012
GenerousGardeners.com is urging gardeners across the country to go greener, and find local gardeners with whom to swap plants.
Susan Kelly, co-founder of GenerousGardeners.com, says, "Gardeners have always generously given away their extra plants, especially when they can find a local gardener. And if it's a chance for a plant swap, both gardeners get something new for their gardens. So that's why we want to help gardeners find other local gardeners for plant swapping.
"Using the site to list plants to swap is free, and as more gardeners use the web site, the more useful the site will be for other gardeners. That's why we'd like a million gardeners to go online and list their plant swap offerings."
GenerousGardeners.com uses Google Maps to find local swapping partners.
"Hey, gardeners! Spread the word," says Terese O'Connell, co-founder. "We need generous gardeners in every neighborhood across the country to start listing and finding plant swaps."