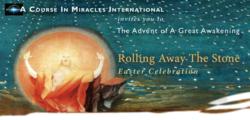 Remember, the Son of God is you.
Wisconsin Dells, WI (PRWEB) March 30, 2012
Reverend Peter Bonnes of the Miracles Healing Center in Wisconsin Dells, WI, is reminding those who are genuinely determined to experience the whole new reality of life that is the eternal Love of God, that the stone of death is being rolled away at the eight-day intensive Easter retreat beginning Palm Sunday on April 1st and continuing through Easter Sunday on April 8, 2012. The event entitled "Rolling Away The Stone," will take place in the Healing Center Sanctuary on Highway 23 at County B in Wisconsin Dells, WI.
In announcing the event,Miracles Healing Center director, Reverend Peter Bonnes reminds participants that this intensive should be seen as their own individual awakening from the darkness of apparent separation to the light of resurrected mind. "This is a process that is occurring in you personally," reiterated Bonnes. "You are the Corinthians to whom St Paul was referring when he said, 'Behold, I shew you a mystery; We shall not all sleep, but we shall all be changed, in a moment, in the twinkling of an eye, at the last trump: for the trumpet shall sound, and the dead shall be raised incorruptible, and we shall be changed. For this corruptible must put on incorruption, and this mortal must put on immortality. So when this corruptible shall have put on incorruption, and this mortal shall have put on immortality, then shall be brought to pass the saying that is written, Death is swallowed up in victory. O death, where is thy sting? O grave, where is thy victory?'"
It is important that we begin on Palm Sunday which represents your triumphant entry into Jerusalem. This is where it all happens. As Jesus reminds us, "This is Palm Sunday, the celebration of victory and the acceptance of the truth. Let us not spend this holy week brooding on the crucifixion of God's Son, but happily in the celebration of his release. For Easter is the sign of peace, not pain. A slain Christ has no meaning. But a risen Christ becomes the symbol of the Son of God's forgiveness on himself; the sign he looks upon himself as healed and whole."
"Remember," continued Reverend Bonnes, "The Son of God is you."
For more information about the Miracles Healing Center and the Easter Retreat visit http://www.miracleshealingcenter.com/easter2012.htm or call 608-253-HEAL (4325)