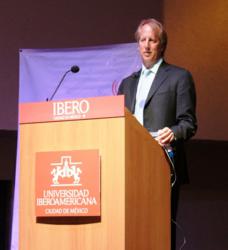 Mexico City, Mexico (PRWEB) March 30, 2012
Rod Beckstrom, ICANN's President and Chief Executive Officer today said the Internet will change more in the next five years than it has in the past three decades.
"The Internet has flourished without any central promotion or regulation," said Beckstrom. "It has been precisely through its open and free nature that it has become the fundamental platform to build the Information Society."
The ICANN CEO made the remarks during a forum sponsored by Mexico's Ministry of Communications and Transportation and the University Iberoamericana in Mexico City.
"We believe in a simple principle: everyone with an interest in the Internet has an equal right to be heard in its governance," he said. "All stakeholders should have a voice. No one is more important than the other."
Beckstrom said the future of the Internet will be defined by the very model of governance that ICANN embodies. "The Internet itself will depend on coordination and cooperation between its many stakeholders. We must continue to work together under principles of inclusion, consensus, multistakeholder participation, bottom-up decision making processes, transparency and accountability."
Immediately following the forum at the University Iberoamericana, Beckstrom met with Dionisio Pérez Jácome, Mexico's Minister of Communications and Transportation.
On Wednesday, the ICANN leader met with representatives of Mexico's Internet technical community.
To download high resolution photos from Beckstrom's speech and meetings in Mexico City, go here: http://www.flickr.com/photos/icann/sets/72157629334104066/
MEDIA CONTACTS:
Brad White
Director of Global Media Affairs
Washington, D.C.
Tel. +1 (202) 570 7118
brad.white (at) icann (dot) org
Andrew Robertson
Edelman Public Relations
London, U.K.
Tel. + 44 (7811) 341 945
andrew.Robertson (at) edelman (dot) com
About ICANN: ICANN's mission is to ensure a stable, secure and unified global Internet. To reach another person on the Internet you have to type an address into your computer - a name or a number. That address has to be unique so computers know where to find each other. ICANN coordinates these unique identifiers across the world. Without that coordination we wouldn't have one global Internet. ICANN was formed in 1998. It is a not-for-profit public-benefit corporation with participants from all over the world dedicated to keeping the Internet secure, stable and interoperable. It promotes competition and develops policy on the Internet's unique identifiers. ICANN doesn't control content on the Internet. It cannot stop spam and it doesn't deal with access to the Internet. But through its coordination role of the Internet's naming system, it does have an important impact on the expansion and evolution of the Internet. For more information please visit: http://www.icann.org.