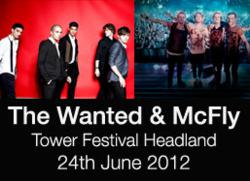 (PRWEB UK) 31 March 2012
Weekend breaks specialist, Superbreak, has expanded its already extensive Concerts & Events programme to include a range of regional based concerts across the UK. The Yorkshire based tour operator has initially launched seven regional concerts with more expected to be added to the programme over the coming months, including John Barrowman due on sale on Monday 02 April 2012. Whilst still in its infancy, sales for regional based concerts are already encouraging with Olly Murs and the Wanted & McFly most popular to date.
Superbreak customers now have the opportunity to choose from headline acts including The Wanted & McFly at Blackpool's newest open air venue, the Tower Festival Headland, heritage rockers Status Quo at Liverpool's Speke Hall and XFactor finalist Olly Murs at the Lytham Proms Festival in August. Initially, the company has focused on concerts in North West England, offering a selection of hotels and ticket packages at key venues in Liverpool, Blackpool and Lytham St Annes. As with all Superbreak products, customers also have the chance to add a return rail journey to their booking, offering even more choice and flexibility on their short break away.
Superbreak already offer a strong concerts and events programme consisting of popular pop, rock and rap artists at London's O2 Arena, as well as a wide range of comedy, sporting, specialist and cultural breaks. Last year, nearly 8,000 passengers travelled with the tour operator on a Concert & Events break with 41% of all passengers travelling to London's O2 Arena. The tour operator hopes the introduction of these new concerts will help to strengthen their regional hotel breaks further.
Chris Hagan – Head of Overseas, Transport and Ancillaries Product at Superbreak, commented: "We have focused a huge amount in the past 12 months on creating innovative and interesting packages for our customers. Our regional concert programme is a perfect example of this, the demand for our O2 arena concert product clearly showed this regional extension would be a winner with both our existing and new customers".
About Superbreak:
Superbreak is the internet division of Superbreak Mini Holidays Limited, the market leader for short breaks and hotels throughout the UK, including hotels in Manchester, Paris and Dubai. Superbreak is part of Holiday Break plc. Based in York, England, Superbreak specialises in booking city breaks in 2-5 star hotel accommodation throughout Britain for the leisure traveller. Superbreak also work with various travel providers offering a range of rail breaks, P&O mini cruise breaks, flights & more.
With 5000 plus hotel partners in worldwide locations from Dublin to Brighton, from London to Paris and with great availability and rates for theatre breaks, events at the O2 Arena, various popular attractions and national and international rail partners, Superbreak can offer an outstanding depth and breadth of UK and Overseas short break products.
For further information on Superbreak or on this PR, please contact:
Khalid Amin
Online Marketing Manager
Superbreak Mini-Holidays
Eboracum Way
York
YO31 7RE
(01904) 436043
http://www.superbreak.com