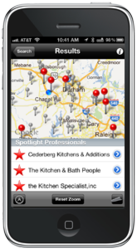 As the latest tool in the Kitchen & Bath Channel suite, the mobile app provides an on-the-go adjunct to the website giving the consumer the ability to conduct instant, ongoing research while shopping.
Chapel Hill, NC (PRWEB) March 30, 2012
The Kitchen & Bath Channel announced today the official release of version 2.0 of the iPhone platform of The Kitchen & Bath Channel Smart Phone App. The update is available at iTunes.
This free app provides homeowners immediate access to over 15,000 kitchen & bath and remodeling professionals throughout the US. Employing smart phone geo-location services, the user can immediately locate professionals within a 50-mile radius of their current location – making this the perfect tool to use while the homeowner is out shopping.
Version 2 features an updated user interface, making searches more intuitive and easier to conduct. In addition, the geo-location mapping better highlights the Spotlight and Featured kitchen and bath professionals, providing greater access for the user.
The app is a shopping resource and research tool with a multi-function search engine allowing the consumer to find professionals in over 10 different ways including by zip code, the room to be remodeled, product, professional specialty and more. Kitchen & Bath and Remodeling professionals have the opportunity subscribe for a minimal annual fee, to take advantages of these searches and providing expanded exposure and upgraded profiles, including images, videos and hyperlinks to contact via phone, email and website.
With over 4,000 apps downloaded and close to 14,000 sessions there is verification that the app drives traffic to the kitchen and bath professional and has led to over $100,000 in sales.
The Kitchen & Bath Channel is a joint venture between 36-year veteran of the kitchen & bath industry, Max Isley, CMKBD of Hampton Kitchens, and Z promotion & design founder & president, Philip D. Zaleon.
"After almost 40 years of kitchen and bath sales, it was clear to me that consumers spend a lot of time researching kitchen & bath firms, often taking the recommendation of friends, neighbors, or family members. Frequently, this initial research results in frustrating or incorrect choices. As they exit the doors of the firm they THOUGHT they would use, the need to visit additional firms is obvious. In the distant past, they grabbed the Yellow Pages… today it's the smartphone. And this app allows the kitchen and bath professional to get their message into the hands of consumer WHILE they were out shopping, in the buying mode and in the area," said Max.
Phil added, "As the latest tool in the Kitchen & Bath Channel suite, the mobile app provides an on-the-go adjunct to the website (http://www.KitchenBathChannel.com) giving the consumer the ability to conduct instant, ongoing research while shopping. There has never been a more direct route to a kitchen and bath professional."