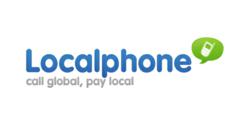 Sheffield, United Kingdom (PRWEB) March 31, 2012
From 12pm (noon) GMT Monday 2nd April until 12pm (noon) GMT Tuesday 1st May 2012 Localphone customers can make cheap calls to Germany from just 0.4p per minute. Users can make calls from their mobile, landline or computer all for the same cheap price. The discounted price means that Localphone will be charging the cheapest rate to call German phones in the market.
Localphone prides itself on offering the best service possible to its global customer base. There are no hidden connection fees or monthly contracts, meaning the customer only pays for the calls they make. Paul Cusack, CEO and founder of Localphone, commented, 'We aim to be the cheapest and best provider of international calls and we're pleased we can offer discounts in order to help our customers to save even more money on calling. The offer is also a great opportunity for new customers to try the service and hear the crystal clear call quality that Localphone gives.'
During the promotion, calls to landlines in Germany will cost 0.4p GBP/ 0.5c EUR or 0.7¢ USD and calls to mobiles will cost 1.6p GBP / 2.4c EUR or 3.4¢ USD. The 50% discount is available to all Localphone customers no matter what country they're calling from. For users who aren't yet Localphone customers, they simply need to sign up for free and they'll be given a 5 minute free call. After they add credit they'll be able to benefit from the discounted calls to Germany. Find out how to make cheap calls to Germany at http://www.localphone.com/call/germany
Localphone, founded in 2007 and headquartered in Sheffield, has quickly established itself as one of the world's leading providers of cheap international calls.
If you would like more information about this topic, or to schedule an interview, please call the press room at +44(0) 114 3190538.