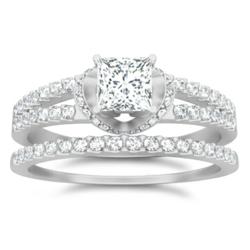 JewelOcean.com wants to give its customers the most value of money
Cockeysville, Maryland (PRWEB) March 31, 2012
Following on its successful sales growth of Wedding Sets in 2011, JewelOcean.com has updated its wedding sets collection, featuring many new antique engraved designs, with prices starting from only $799.99 onwards. By adding more exquisite designs, JewelOcean is continuing on its tradition of providing its customers more value for money, while giving them wedding sets which are beautiful yet affordable.
"JewelOcean wants to give our customers most value for money, by providing best designs in wedding sets at lowest possible prices", says Mathew Bruno, manager at JewelOcean.com. Bridal Sets, are collection of diamond engagement rings and matching wedding bands, which are to be worn together. Many of the new bridal sets, added to the JewelOcean collection feature antique handmade designs. These bridal sets can be fully customized with either princess cut or round cut center diamond, where the customer can select their choice of center diamond carat weight, starting from 1/3 carat to 1 carat. The bridal sets can also be made on customer choice of either white gold or yellow gold.
By adding more antique designs engagement rings and wedding bands to its collection of Wedding Sets, JewelOcean is providing its customers a complete choice based on their preferences. Customers can now find classic antique designs, to more contemporary wedding sets designs, and all at affordable sale prices.
For couples looking to get a complete wedding set, with matching engagement rings and wedding bands, this update to the JewelOcean bridal set collection is the perfect chance to get their dream wedding sets. Some of the new designs added to the wedding sets collection however are in limited quantities as they feature unique and very different hand engraved designs.
JewelOcean.com is a leading provider of wedding sets, providing them at affordable prices for over 10 years. JewelOcean specializes in providing diamond rings in all price ranges starting from $449 onwards. All diamond engagement rings purchased come with their guarantee certificate, refund policy and free shipping. By providing customized engagement rings options, see how JewelOcean.com can save hundreds of dollars on the next purchase, please visit http://www.JewelOcean.com