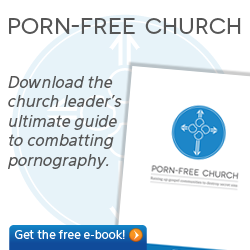 Owosso, MI (PRWEB) March 31, 2012
Pornography is forbidden fruit, which may make it even more attractive, destructive, and addictive to Christians, writes Bill Perkins in the new free e-book Porn-Free Church, published by Covenant Eyes.
Porn-Free Church: Raising up gospel communities to destroy secret sins is a major work that is a must-read for church leaders who want to uproot the weeds of pornography that are infesting relationships and marriages. Covenant Eyes gathered nine engaging writers to expose why pornography thrives in secrecy, and why people feel trapped in a cycle of sin and shame. More importantly, the book helps pastors show their congregations how to find freedom from porn in the Gospel.
Readers will learn:

How this secret sin is hurting the church.
Statistics about pornography.
The ugly connection between porn, sex trafficking, and other social injustices.
Biblical truths about accountability.
Concepts on how to counsel men struggling with pornography.
How to move past large events and pancake breakfasts to create a culture of accountability within a church.
How to start a recovery group in your church.