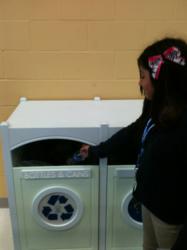 In doing on-line research I stumbled upon max-R and was impressed with the designs and features of their recycling bins.
Sussex, WI (PRWEB) March 30, 2012
Max·R donated tailored recycling bins to IDEA Public Schools, who serves economically disadvantaged students in the Rio Grande Valley, along the southernmost tip of Texas.
Some of IDEA's core values include closing the achievement gap, doing whatever it takes, giving 100% each day and not making excuses. IDEA public schools' mission is to get 100% of students through high school and ready for college and citizenship.
As Ellen Hutchins puts it, a Wellness Coordinator at IDEA Public Schools, "Citizenship includes a variety of life skills integral to developing well-rounded members of society. Teaching kids to be good stewards of the Earth through recycling is one of those life skills."
The Wellness Program at IDEA Public Schools promotes good nutrition, regular physical activity and healthy lifestyle choices among students. The program is funded almost exclusively by grants. In fact, Ellen Hutchins' position is thanks in part to a grant through AmeriCorps VISTA program.
In Fall of 2011, Ellen began using cardboard recycling containers to collect cans and bottles that were being thrown away in the cafeteria. "We were able to divert some of the cans and bottles from the trash," said Hutchins, "but the bins would wear easily and wound up getting thrown away periodically from the custodial staff – we needed a more permanent solution suitable for daily use."
Ellen decided she needed to pursue a donation of heavy-duty bins to fulfill their needs and by mid-2011 she began to look for a new solution. As a charter school, IDEA gets much of their funding from the government; however their wellness program is funded by grants and donations. "In doing on-line research I stumbled upon max-R and was impressed with the designs and features of their recycling bins." Said Hutchins.
Max·R agreed to donate four recycling stations with Opening IDs tailored to IDEA's cafeteria waste stream. "When we learned more about IDEA Public Schools and their needs, we were more than happy to do our part to help." Said Mark Hammer, Executive Vice President at Max·R.
Max·R manufactures sustainable indoor/outdoor furnishings made of maintenance-free 97% pure recycled plastic – milk jugs! In fact, since the company's founding in 1997, Max·R has reclaimed over 67 million milk jugs and aims to save 100 million by 2014 in its Mission for 100 Million campaign. Beyond its environmental benefits, pure recycled Max·R lumber™ is an innovative alternative to wood since it won't rot, split or become food for termites. What's more is that Max•R lumber™ never needs painting and with two-tone color options on furnishings, there's up to 100 different color combinations to choose from.
Max·R specializes in building waste & recycling bins tailored to specific waste streams and aesthetics. Each tailored recycling station reclaims an average of 1000 milk jugs in its manufacture. Max·R also builds a variety of other site furnishings including benches, planters, message centers and more are built in their facility which is powered by 100% renewable energy as an EPA Green Power Partner. This renewable energy purchase avoids the carbon emission equivalent of taking 100 cars off the road – a year! Read more about their "green" initiatives and recycling blog posts at Max·R's Facebook page.