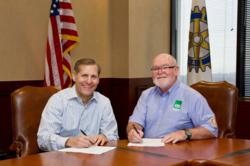 Sarasota, FL (PRWEB) March 30, 2012
ShelterBox and Rotary International (RI) have formed a project partner agreement this month, signed by John Hewko, Rotary International's General Secretary, and Tom Henderson OBE, ShelterBox Founder and CEO.
The formalization of this partnership cements a 12-year relationship, providing emergency shelter and life-saving humanitarian aid for hundreds of thousands of families around the world, who have been made homeless by disaster.
ShelterBox began as a Rotary Club Millennium Project in 2000 and today continues to have a significant input from Rotarians in its governance Board, senior management, operational capacity and international development.
"Rotary and Rotarians have been integral in the operational development of the organization, from being eyes and ears on the ground during deployments, to providing logistics, accommodation and translation services, right to assisting with the pitching of tents," said Henderson. "Many of our global Response Team volunteers are Rotarians. Others have joined the Rotary family having seen the difference that Rotary and ShelterBox make on the ground. They have always helped us in endless ways."
Not only have Rotary clubs and Rotarians historically contributed a significant percentage of ShelterBox's income, but members of the Rotary family have also founded each one of its 21 affiliates. This support remains key for the charity to be prepared for a disaster of any scale and to be in a position to assist the most vulnerable families at the time when they need it the most.
Through the new partnership, the two organizations will assist Rotarians to be part of a critical solution at times of disaster through providing humanitarian service when disasters occur in their area; engaging with ShelterBox in disaster preparedness initiatives within their country or District; and supporting ShelterBox readiness, awareness and capacity building.
"For more than ten years, ShelterBox has given light to over one hundred thousand families worldwide in their darkest hour," said Hewko. "This project partner agreement represents our mutual goal of helping those in need. It gives RI a forward-facing approach to immediate disaster relief."
"It's an historic moment for us to become a Rotary project partner," said Henderson. "It's the first of its kind and is a great opportunity for us to engage with our Rotary friends around the world to increase awareness of what we do with Rotary and, of course, an opportunity for Rotarians to increase our avenues of service worldwide."
ABOUT SHELTERBOX USA
Since 2000, ShelterBox has provided shelter, warmth and dignity following more than 170 disasters in nearly 80 countries. ShelterBox instantly responds to earthquake, volcano, flood, hurricane, cyclone, tsunami or conflict by delivering boxes of aid. Each iconic green ShelterBox contains a disaster relief tent for an extended family, stove, blankets and water filtration system, among other tools for survival. ShelterBox's American affiliate, ShelterBox USA is nationally headquartered in Sarasota, Florida. Individual tax-deductible donations to ShelterBox USA can be made at http://www.shelterboxusa.org, (941) 907-6036 or via text message by sending SHELTER to 20222 for a one-time $10 donation. Location and time specific donations cannot be accepted.
# # #