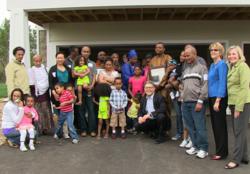 Minneapolis, MN (PRWEB) March 30, 2012
More than 900 hardworking, low-income families have now purchased Twin Cities Habitat for Humanity homes. The organization honored its seven newest homeowner families with a home dedication at Woodbury's Garden Gate community on Saturday, March 24.
US Senator Al Franken joined other community leaders in the ceremony. He joked with the kids there were no more excuses for not doing homework now because their new homes provided ample space to study.
Twin Cities Habitat CEO and President Susan Haigh told the crowd, "We know that healthy families start at home, that success at school starts at home, and that great neighborhoods and strong communities begin with committed families and good quality safe, stable, housing."
Twin Cities Habitat built its first home in 1985. It now builds and sells 60 homes to partner families annually. Each family pays a 0% mortgage which helps fund more Habitat projects. Families must also complete homeowner training courses and perform hundreds of hours of sweat equity before buying their home.
It was appropriate that Twin Cities Habitat surpassed the 900 milestone in Woodbury since the city has been home to 56 Habitat families, the third highest total for the affiliate behind only Minneapolis and St. Paul.
"We've had a long and successful relationship with Habitat for Humanity here in our community," said Woodbury's Mayor Giuliani Stephens as she welcomed each family into their new home.
Homebuyer Crepin Montcho said his family learned a great deal about maintenance, finances and successful homeownership through Habitat's family training courses. Because of Twin Cities Habitat's diligent selection and preparation process the organization's foreclosure rate is below 1%.
For more information on Twin Cities Habitat visit http://www.tchabitat.org.