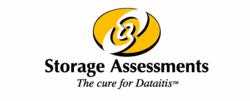 "This was my first time at a directIT event. I was impressed with the quantity and quality of attendees as well as the selection of vendors present...William Swislow, CIO & SVP of Products Cars.com
Hoffman Estates, IL (PRWEB) March 30, 2012
CIOsynergy, a provider of thought leading conferences, today announced that Storage Assessments will be a key sponsor of its directIT event on April 5, 2012 at the Hyatt Reunion Hotel in Dallas, Texas.
Storage Assessments cures Dataitis by creating real solutions to their client's data storage problems. Those solutions are based both on the customer's current needs as well as their future goals based on growth, performance and flexibility.
Storage Assessments use a vendor agnostic approach keeping their clients' best interest first and foremost. They also provide end-to end support throughout all projects to ensure timely and successful completition. Their customers vary in size from small business to Fortune 100 companies and encompass many industries including, but not limited to, Oil and Gas, Semiconductor, School Districts, Banking Institutions, Telecomm and Multi-Media.
For more information about or to participate in directIT Dallas, visit: http://Actifio.ciosynergy.com or contact Araceli Delgado, project coordinator at aracelid@ciosynergy.com or 1.847.278.2213 ext. 899.
directIT Dallas is an exclusive opportunity for leading local CIO and IT executives to network and brainstorm daily hurdles in an unparalleled learning environment under the umbrella of the founder of Travelocity.com, keynote of the event Terry Jones. As chairman of Kayak.com and former CIO of American Airlines, Mr. Jones will share insights from four decades of success including the techniques he's deployed to keep up with today's rapidly changing world.
At directIT, a panel of leading CIO's moderated by Scott Shuster, will share and explore how CIO's can be successful in their role. Mr. Shuster has led virtually every Business Week CEO, CFO, and CIO conference held since the founding of the magazine's events group more than 100 of the world's most prominent gatherings of large company leaders and senior executives.
About CIOsynergy
CIOsynergy provides a platform that brings together the thought leaders of IT through events that incorporate face-to-face meeting opportunities, panel discussions, think tanks and keynotes, and C-suite networking programs.
Previous events have attracted C-suite leaders from companies such as Wal-Mart, Salesforce, Home Depot, Bank of America, Forbes Media, Wells Fargo, Shell, Allstate, State Farm, Career Education Corp, Pepsi, Sara Lee, Kraft, BP, Loyola University, Kaiser Permanente, Mayo Clinic, and Walgreens.
The company operations nationwide and has previously partnered with sponsors such as IBM, 3com, VMware, Unisys, Hitachi, Oracle, SunGard, Dell, Google, Amazon, and HTC among 100's more.
About Storage Assessments
Storage Assessments LLC was formed in 2006 by Carolyn Chambers who saw a need to serve customers on a vendor independent basis, to provide to best solutions possible to her customers. With over 25 years of experience with storage in the staff, Storage Assessments has seen strong growth over the past two years and has added key partners to compliment a solid and proven product line.