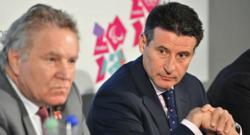 With only 119 days to go until the Games begin, London is ready to welcome the world this summer.
(PRWEB) March 30, 2012
The International Olympic Committee's (IOC's) Coordination Commission today concluded its tenth and final visit to London with the message that the 2012 Host City is ready to welcome the world's best athletes and Olympic and Paralympic fans this summer.
Chairman of the IOC's Coordination Commission Denis Oswald said: 'With only 119 days to go until the Games begin, London is ready to welcome the world this summer.
'London presented us with a strong vision in Singapore seven years ago and, while many details will need to be finalised between now and 27 July, they are well on track to deliver an outstanding event.'
Thirty-one sport test events have already been successfully staged in London 2012 venues and a range of cultural, educational and sports programmes are bringing the Olympic spirit to the whole of the UK.
London 2012 also told the Coordination Commission that Londoners were gearing-up for the Games by starting to adapt their travel habits and determining the best routes and times to attend the events this summer. Restaurants, shops, airports, government agencies and others are also giving their support to the Games by adjusting their operations to help the UK deliver its best to the world.
Training for volunteers is also in full swing, while educational and Local Leaders programmes are informing the public and encouraging them to get involved with the Games.
Denis Oswald said: 'You can really sense the growing excitement for the Games.
'This will no doubt be a summer like no other for London and Great Britain but with the support of Londoners and the British population, London 2012 will surely be a memorable event for the athletes and the fans. The world expects a lot from London but we know you're ready and we know you'll deliver.'
LOCOG Chair Sebastian Coe said: 'We are obviously delighted with the IOC verdict that we are on track to deliver a great Games and welcome the world in 17 weeks time. We couldn't have a better or more committed team of people, not just at LOCOG but all over the UK, delivering on the promises we made when we bid for the Games.'
For further information, please contact the London 2012 Press Office.