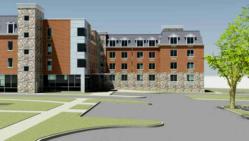 The elderly are often better served if they can remain at home, taking advantage of the center and receiving help from social workers on a range of services.
New York, NY (PRWEB) March 30, 2012
One of OCV Architect's latest projects – the Freidrichs, an affordable senior housing building – was featured in the New York Times. This new construction project is located on the historic 26-acre campus of the Wartburg Adult Care Community in Mount Vernon, NY, and features 60 studio and one-bedroom units for independent senior living.
The Wartburg is a not-for-profit institution that today provides a full range of senior care and services, including skilled nursing care, rehabilitation, Alzheimer's and dementia care, assisted and independent living, adult day care services, and home care. The Friedrichs will be an important new addition to the campus and to New York State, offering the type of housing seniors need more of – housing that allows for independent living with the amenities and services geared toward their needs, all at a price they can afford.
In the article, spokeswoman for the Wartburg, Nancy Davis, says, "The elderly are often better served if they can remain at home, taking advantage of the center and receiving help from social workers on a range of services."
OCV Architects designed the 55,000 square foot wood frame structure to compliment the historic buildings that make up this 146-year old institution. In addition to 60 spacious units of housing, the Friedrichs will provide residents with community spaces such as a fitness room, a library and computer room, meeting and multi-purpose spaces, and offices for support services. Together with the bucolic setting of the Wartburg campus, the Friedrichs was planned in keeping with the institution's mission of nurturing body, mind and spirit.
OCV is providing the Wartburg with the full range of architectural services from design through construction. Collaborating on the project are structural engineers Dominick R. Pilla Associates, P.C., civil engineers McLaren Engineering Group, MEP engineers Abraham Joselow, P.E., P.C., Steven Wind Landscape Architect, and general contractors Lecesse Construction.
The project is being funded through a New York State grant under the Healthcare Efficiency and Affordability Law and has an expected completion date of late 2012.
About OCV Architects
Oaklander, Coogan & Vitto Architects, P.C. is a versatile, award-winning architectural firm serving the New York Metropolitan area for over 30 years. OCV's body of work ranges from affordable and special needs housing to high-end private residences, from gut rehabs and historic preservation to innovative new construction. Having produced over 1,000 units of residential housing, the firm regularly partners with urban housing authorities and development groups to create sustainable, attractive residences within restrictive budgets. As a member of the U.S. Green Building Council, OCV strives to bring to each design respect for a project's site, setting, history and culture, while making every effort to build responsibly and sustainably. For more on OCV please visit http://www.ocvarch.com.
For further information on this release, the Friedrichs, or similar projects, please contact:
Mireille Moga
Oaklander, Coogan & Vitto Architects, PC
203 Lafayette Street, 5th Floor
New York, NY 10012
212-675-6470 x222
mogam(at)ocvarch(dot)com