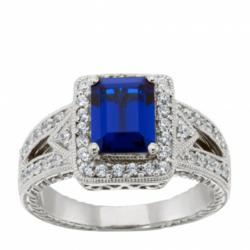 To receive pre-notification of the sale, customers can go to the Diamond Nexus fan page, located at www.facebook.com/diamondnexus to "like" the page and receive the early notice of the sale
(PRWEB) March 30, 2012
Diamond Nexus will be offering the Esteals promotion on a weekly basis, beginning on April 5th. The majority of items will be inexpensive engagement rings, but other jewelry items will also be included. The sale runs every Thursday morning thereafter.
"The heavily discounted items are priced to sell. We have been getting many requests to bring back this successful promotion as an opportunity for our customers to save even more and get their dream jewelry. Fans know how much money they can save with this sale, and walk away with a custom piece of jewelry at a fraction of the price," stated Kyle Blades, Director of Marketing.
"At 10am we release the link to our Esteals page for our fans on Facebook. Items do sell out fast, and are limited in quantity. At noon the rest of our customers will be sent an email with the link to the sale. It has been hugely popular with our customers, to offer affordable engagement rings and other items that have been deeply discounted," commented Jennifer London, Social Media Coordinator.
"To receive pre-notification of the sale, customers can go to the Diamond Nexus fan page, located at http://www.facebook.com/diamondnexus to "like" the page and receive the early notice of the sale. If anyone has any questions about the pieces once the sale goes up, they can call us at 1-800-509-4990 or visit us on livechat," said London.
Diamond Nexus was founded in 2004 with the purpose of bringing to the public the powerful benefits of the lab-created diamond simulant revolution. They have over 250,000 customers worldwide that have awarded them an "A+" rating with the BBB, and are the ninth largest online jewelry retailer in America according to the 2011 IR500 list. For two years in a row brides from The Knot have selected them as their Best of Jeweler. Diamond Nexus currently has two retail locations: their flagship store at Woodfield Mall in suburban Chicago, Illinois, and a second store at Mayfair Mall in Milwaukee, Wisconsin. In 2009 the company was named the official jeweler and crown maker of the Miss Universe Organization as part of NBC/Universal's "Green is Universal" environmental initiative.