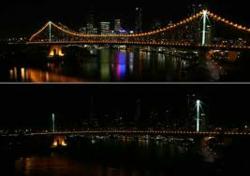 Los Angeles, CA (PRWEB) March 30, 2012
Ciralight Global, Inc. (OTC:BB:CGHA.OB) has taken the Earth Hour challenge of turning off all lights on March 31st at 8:30pm, while encouraging a "Beyond the Hour" mentality of extending sustainability to everyday life, not just one hour a year.
"Imagine, if every building could use daylight rather than electric lighting during the day's peak hours, how much better off this world would be regarding energy independence. Interior electric lighting is one of the largest consumers of electricity, and it doesn't have to be that way anymore. We can change this together," asserts Ciralight Chairman and CEO, Jeff Brain.
Started in 2007 in Australia, the Earth Hour event had 2.2 Million participants in Sydney. The 2011 Earth Hour event was by-far the biggest; 135 Countries; 5,200+ cities; and more than 100,000,000 people worldwide. 2012 looks to be the largest Earth Hour yet.
Ciralight's solar powered Ciralight SunTracker illuminates building interiors using natural daylight. Ciralight is taking a proactive approach to promoting reducing energy demand and promoting worthy events like Earth Hour through their Corporate social media and communication literature.
Ciralight is a proud supporter of Earth Hour and the idea of turning off electric lights to celebrate Earth Hour. With the worldwide movement toward a greener planet, Ciralight's solar powered SunTrackers allow people around the world to use natural lighting that is healthier, abundant and free, and to turn off electric lights everyday!
Earth Hour is Saturday; March 31st, 2012 at 8:30pm worldwide.
About Ciralight
Ciralight manufactures patented SunTracker™ lighting solutions that enable commercial and industrial buildings to utilize sunlight to illuminate indoor spaces. The Ciralight SunTracker™ unit utilizes a solar powered GPS controller and mirrors to direct sunlight through a skylight diffuser. The result is a sustainable lighting solution that can offer up to 10.5 hours of free indoor light. Using Sun-tracking technology allows our Ciralight SunTrackers to illuminate buildings longer and more effectively than traditional skylights. Furthermore, the natural diffused light is high quality, more conducive to retail, educational, and industrial purposes. Ciralight SunTrackers™ provide the illumination of a 1,000 watt metal halide light fixture. These units are entirely solar powered so they do not require any electricity or electrical hookup. Ciralight SunTrackers™ are designed with dual thermal barriers so they prevent the heat associated with traditional skylights. Ciralight SunTrackers™ are used by Staples, Office Depot, IKEA, Google, Whole Foods, Johnson and Johnson, Caterpillar, Emerson, Frito Lay, Schiphol Amsterdam Airport, Boeing, Eaton, and others.
Forward-Looking Statements
Any statements contained in this press release that refer to future events or other non-historical matters are forward-looking statements. Ciralight Global, Inc. disclaims any intent or obligation to update any forward-looking statements. These forward-looking statements are based on the reasonable expectations of Ciralight Global, Inc. as of the date of this press release and are subject to risks and uncertainties that could cause actual results to differ materially from current expectations. The information discussed in this release is subject to various risks and uncertainties, results of operations or financial condition, national and international government regulations and the risks associated with doing business across borders and territories, and such other risks and uncertainties as detailed from time to time in Ciralight Global, Inc.'s public filings with the U.S. Securities and Exchange Commission.