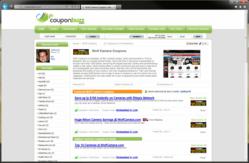 Using an Canon camera is an incredible photographic experience.
Houston, TX (PRWEB) March 31, 2012
Today CouponBuzz.com announced a Wolf Camera coupon for $100 off in instant savings on the Canon EOS 60D Digital SLR Camera. The special offer is featured in their recently launched section dedicated to coupons and special offers from WolfCamera.com. Respected as one of the premier camera brands on the market today, Canon cameras are the tool of choice for both amateur and professional photographers. In addition to the Canon EOS 60D camera included in the special offer, WolfCamera.com offers a complete line of services and products to meet every photography and video-recording need.
"Using an Canon camera is an incredible photographic experience," enthused Justin Bowen, owner and co-founder of CouponBuzz.com. "They are simple, intuitive, and the final image product is absolutely stunning. We expect quite a bit of excitement from Canon enthusiasts about the WolfCamera.com $100 instant savings offer on the Canon EOS 60D camera we are featuring in our new section."
The Wolf Camera coupons available on CouponBuzz.com today offer $100 in instant savings for a variety of Canon EOS digital cameras. The top featured camera, the Canon EOS 60D Digital SLR Camera, combines an 18.0 megapixel CMOS sensor and DIGIC 4 Imaging Processor for high image quality and speed, as well as enhanced detail. It has improved ISO capabilities (100-6400) to enable users to capture images even in dim lighting. And the LCD monitor, the first of its kind for an EOS camera simplifies low and high angle viewing. In-camera creative options and filters enhance the shooting experience, and provide impressive works of art with the click of a button. And all the images can be viewed larger than life on an HDTV via the HDMI output. Finally, the Canon EOS 60D utilizes SD, SDHC and SDXC memory cards. These popular and inexpensive cards enable digital storage that is simple to purchase and upgrade, and available in increasingly large capacities.
The Wolf Camera coupon for $100 off the Canon EOS 60D Digital SLR Camera can be found at the top of CouponBuzz.com's new section dedicated to Wolf Camera coupons and special offers. Additional Canon EOS cameras also have instant savings offers attached, and full details are available at http://couponbuzz.com/wolf-camera-coupons.html