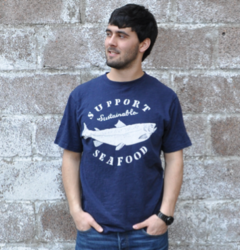 Philadelphia, PA (PRWEB) March 31, 2012
United By Blue's (UBB) men's Support Sustainable Seafood graphic t-shirt in navy blue has been picked up by Nordstrom's "The Rail" department, which will distribute it through 40 store locations. The shirt will retail for $34 both in stores and on Nordstrom's web site beginning in mid-April. Like many of the shirts in UBB's spring 2012 line, the Support Sustainable Seafood shirt is inspired by nautical nostalgia and by motifs of an era gone by.
For UBB, the Certified B Corporation and ocean-friendly brand of apparel that removes 1 pound of trash for every product sold, selling through Nordstrom has been a long sought after goal. UBB Founder and Chief Trash Collector Brian Linton has pursued Nordstrom since shortly after the company was founded in May 2010.
"The Nordstrom customer is also the UBB customer: he has high expectations of style, quality, and customer service," says Linton. "Getting our brand in front of the Nordstrom customer is a huge opportunity for us."
Conversations about carrying the socially responsible brand began last year when UBB shirts began taking on a more nostalgic vibe. "For a while, we wore our hearts on our sleeves," says Alli Blum, Director of Marketing. "Our shirts reflected our environmental mission. After our first season, we started incorporating more positive messaging into our shirts and drawing inspiration from our own experiences and travels."
The transition enabled the socially responsible brand to appeal to a wider, more mainstream customer base and to retailers like Nordstrom. "United by Blue perfectly fits our Rail focus of featuring the great causes our fashionable brands participate in," says Nathan Macdonald of Nordstrom.
UBB's super soft slub jersey cotton t-shirts with discharge printed graphics are among the softest on the market. "At trade shows we like to challenge people to find softer t-shirts than the ones we carry, and no one ever can," says Mike Cangi, Director of Cleanups. "The premium nature of our products makes them a perfect fit for the Nordstrom customer."
The shirts will also be among UBB's first production run to be made in America. "We've wanted to make our shirts in the United States since we started, and now we're doing it," says Blum. "Making our shirts in Los Angeles, California instead of overseas both reduces our environmental impact and also employs Americans."
In keeping with UBB's mission, for every UBB product sold through Nordstrom's channels, UBB will remove 1 pound of trash from oceans and waterways through company organized and hosted cleanups. "We host many of our cleanups with our retail partners, and we hope to co-host a cleanup with Nordstrom in the future," says Mike Cangi, Director of Cleanups.
UBB also sells a line of rugged waxed canvas bags, which have sold well through the online channels of Urban Outfitters and through UBB's own web site, which sold out of the bags before the 2011 holiday shopping season was over.
"As we get our product out in front of more customers outside of our industry niche, we spread the word about the Blue Movement to more people. And that's what it's all about," says Linton.