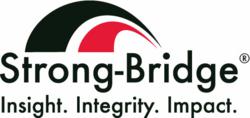 Seattle, WA (PRWEB) March 30, 2012
Strong-Bridge, LLC, a firm known for driving game-changing initiatives for companies primarily in telecommunications, high tech, healthcare, and retail, today announced plans to expand its consultant base significantly in the coming months. In support of this initiative, senior recruitment executive Heather Sorelli joined the firm in March of 2012 to lead the effort.
Strong-Bridge seeks out consultants with deep, senior-level experience as Project and Program Managers in at least one of the vertical markets it serves. A seasoned consultant from a Big 4 firm would likely find the company culture and ideals very refreshing. Candidates who embody the company's core values of client-centricity, professional integrity, and fairness—and have a well-developed sense of humor—are an ideal fit.
According to Director of Talent Management Sorelli, Strong-Bridge is a great environment for experienced consultants who are looking for something more than 'business as usual.' "Strong-Bridge is all about the people, consultant and client, rather than just selling our brand and not truly delivering," she says. "We're different because we don't burden our consultants with the heavy travel or off-balance schedules that most consultants have grown to expect. There are no politics, and no corner offices—just strategic planning and sound execution for our clients."
The company's commitment to its consultants is supported by its five-pillar approach to employee satisfaction. Strong-Bridge goes out of its way to ensure that employees always feel connected, supported, informed, recognized, and well-compensated. "Because we operate in a virtual environment, Strong-Bridge eliminates a lot of the overhead associated with typical consulting firms," comments Sorelli. "We've built our reputation on the quality of our consultants, and so we'd rather use our resources to make sure that we offer them one of the best compensation plans in the industry."
To learn more about opportunities with Strong-Bridge, visit http://www.strong-bridge.com/people/join
ABOUT STRONG-BRIDGE
Founded in 2003, Strong-Bridge is a management consulting firm serving the telecommunications, technology, healthcare, and retail industries. We work collaboratively with our clients to help them design and deploy new strategies, business models, and processes that deliver improved customer experiences and high quality products and services. With offices in Seattle and Toronto, Strong-Bridge consultants share the company's commitment to delivering 100% client value, serving a host of Fortune 500, mid-size, and startup clients worldwide.
Visit the company online at http://www.strong-bridge.com.