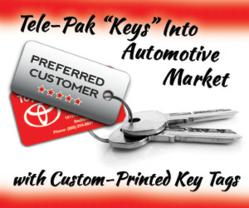 (PRWEB) March 30, 2012
Tele-Pak, a leading supplier of custom-printed plastic cards and other printed plastic items, is a leading printer of customized plastic key tags. The company website, http://www.plastickeytag.com, offers key tags in a variety of shapes and sizes. A free sample pack of key tags is available upon request. Visitors can get an instant and accurate quote once the job specs are indicated on a simple online form.
"Dollar for dollar, plastic key tags are one of the best marketing tools for those business related to the auto industry, such as car repair shops, auto parts stores and car dealers," says Tele-Pak President Jack Steinmetz. "They effectively act as a pocket-sized ad that your customers will see every time they reach for their keys. And key tags add a nice little touch of service. Why just return your customers' keys, when you can so easily add some branding?"
Tele-Pak key tags are made from sturdy PVC or composite laminated plastic and can be printed in photo-realistic full color and with several personalization options, including bar codes, numbering, signature panels, even magnetic stripes in some cases. Pre-scored holes can be punched out easily for easy key ring attachment. Wallet card and key tag combinations are also available.
Tele-Pak Inc. is located in Monsey, NY has been a worldwide leader in the plastic printing industry since 1996, producing all kinds of plastic cards: gift cards, plastic key tags, scratch cards, phone cards, fundraising cards, membership cards and point of sale activation (POSA) cards. Corporate information can be found at http://www.tele-pak.com.