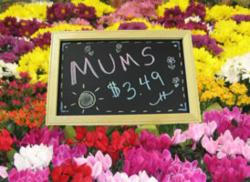 We noticed an instant increase in sales from the small chalkboard signs.
Gap, PA (PRWEB) March 30, 2012
For retailers, having the right-sized signage for each display is always an important factor, so not just any sign will do. It must also be attractive in its own right. Alphabet Signs now offers a product that looks as nice as the items it advertises.
This addition comes in the shape of small chalkboard signs. The new 12-inch wide by 8-inch high size is both functional and attractive. Other common-sized black menu chalkboards range from 18 inches to 60 inches, and these are usually too big for flower displays or produce stands.
These small chalkboards will be ideal for counter top point-of-purchase placement and "up sell" signage. Colleen Hart, owner of a roadside produce stand in the Garden State of New Jersey, said, "We noticed an instant increase in sales from the small chalkboard signs." Since produce is a perishable item, Colleen continued, "The chalkboard signs are great because we can make price changes in an instant, and the colorful chalk is noticeable and personalized."
This little chalkboard is guaranteed to earn its keep in restaurants, cafes, delis, retail stores, public, private home-school classrooms, concession stands, arts and crafts fairs and farm markets. Alphabet Signs expects that the food industry will be excited about being able to buy affordable, small menu chalkboards and small deli signs to handle daily specials.
This small chalkboard is great signage for a cake or gift table at weddings and bridal or baby showers. Because these conveniently sized small chalkboard signs are so adaptable, they will soon be popping up everywhere.
Daniel Keane, president of Alphabet Signs, thinks a larger market is available for this product because of its unique size. "The product is great as an aid to teach children spelling," said Keane. "While developing this product, I brought one home. I found it was the perfect size to sit in my lap and spell C-A-T with my three year old daughter."
A vast improvement from the one-room schoolhouse slates of old, these small chalkboards are the perfect companion for young children who need to practice their letters or math. With a simple wipe of the eraser, mistakes disappear and the opportunity to succeed returns. Teachers in traditional classrooms and moms at home will love these affordable tools that add fun to what used to be boring drill work.
Made only of North American Red Oak, each sign frame is consistent in color, texture and appearance. The corners are perfectly mitered, glued and fastened together for a professional, more expensive look. Each small chalkboard sign comes complete with two hangers for mounting that have been securely riveted to the frame. The sign can be mounted with any standard art frame hangers or leaned upright.
Writing on the boards and cleaning them whenever the menu display changes will be a simple matter. Because of the high-quality, composite chalkboard veneer surface, cleanup is quick and streak-free each and every time.
Daniel Keane said, "We are not requiring a minimum order, Alphabet Signs allows customers to purchase only what they need, even if that means one small chalkboard." For a limited time, customers can use coupon code "chalk430" to save 20 percent discount towards purchase of the small chalkboard sign.