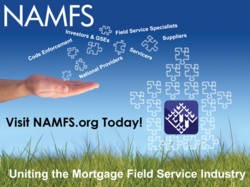 I appreciate the opportunity to be a part of the Leadership Summit. It was a productive, educational experience.

Thank you for such a wonderful event. Good work!

~ Leadership Summit Attendees
Stow, Ohio (PRWEB) March 30, 2012
The National Association of Mortgage Field Services (NAMFS), the premier trade association for the mortgage field service industry, recently hosted their fifth annual Leadership Summit. This year's event was designed to encompass two full days and allow participation in several new solution focused initiatives offered by the Association. Our attendees included ~40 National and Regional Field Service Companies specializing in all aspects of the industry from Inspections through disposition.
The first event, our third Safety Pool Cover Securing Training course, allowed attendees the opportunity to participate in hands-on field training. The focus of the session included details regarding the measurement and installation of these covers as well as how NAMFS views this as an improved solution for vacant property abatement. At the conclusion of this field training, all were afforded the opportunity to complete an assessment. Those that proved to be successful in completing the assessment received NAMFS Certification Certificates and a notation within their NAMFS Membership Directory profiles.
In an effort to obtain increased industry feedback, NAMFS hosted an Open Forum for members. The intent of the event was to enable open discussion regarding industry related issues and concerns. This event differed from past efforts in that it the focus was on obtaining a solution rather than just airing a grievance. NAMFS recognizes that dialogue is imperative and saw the opportunity to discuss potential solutions at the same time as a much more positive and constructive approach. Items discussed included: Chargebacks, Quality Issues/Expectations and Industry Changes. NAMFS views this event as the first in a series to take place via a variety outreach methods to its members providng property preservation, inspections and other correlated services.
The Leadership event hosted on Friday was attended by the NAMFS Board, Committee Chairs and Board-Invited companies. Topics covered were more strategic in nature as the Board looked to validate and obtain feedback on current and future initiatives. The dynamic discussion throughout the day led to the identification of several potential solutions to challenges within the industry and will be integral in the establishment of the direction of the Association in the coming years.
About NAMFS
The National Association of Mortgage Field Services, Inc. (NAMFS) is the premier trade association for the mortgage field service industry. We are dedicated to working with all entities of the industry from the Government Agencies and investors that set policy to the contractors and inspectors that perform the work.