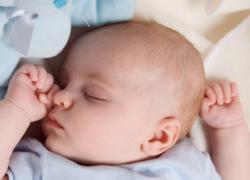 The results from this study concluded that 99% of SIDS deaths involved at least one risk factor.
Winnetka, IL (PRWEB) March 30, 2012
In a recent study published this week in Pediatrics, researchers examined various causes, beyond baby sleeping prone, as a risk for SIDS, including intrinsic (being premature, male, prenatal exposure to cigarettes and alcohol) and extrinsic (sleeping position, bed-sharing, overheating) factors. Sleep Training Solutions' experts agree that babies should be put in their cribs on their backs, and that parents should be aware of other factors that can increase the risk of SIDS.
In this study, the researchers analyzed all infant deaths in San Diego County from 1991 through 2008. In 1991, there were 1.34 SIDS deaths for every 1000 births and in 2008, the number of SIDS deaths decreased to .64 in the same number of births. Separating the statistics from 1991-1993 and 1996-2008, researchers found that SIDS deaths in which the baby was sleeping prone decreased 84% to 48%. Researchers also found that bed-sharing increased from 19% to 38%. Medical professionals warn parents that adult beds have more layers of bedding that can lead to suffocation for infants.
The results from this recent study concluded that 99% of SIDS deaths involved at least one risk factor. More than half (57%) of infants who died from SIDS had at least two extrinsic risk factors and one intrinsic risk factor. 95% SIDS death could be attributed to an extrinsic risk factor.
Another factor—parents who drink alcohol—was addressed in a 2010 study out of University of California San Diego. Researchers found that there were 33% more SIDS deaths on New Year's Day, compared to any other single day in the year. The study also showed that SIDS deaths on weekends and holidays (when parents are drinking more) occurred more often and that there were twice as many SIDS cases when parents drink.
In 2011, the American Academy of Pediatrics expanded the recommendations to provide a safe sleeping environment to reduce infant death, including SIDS. Recommendations included room-sharing instead of bed-sharing, sleeping on a firm mattress, breastfeeding, and continuing to have baby sleep in the supine position.
The Back to Sleep campaign, initiated in 1994, provided recommendations to parents and caregivers about safe sleep for babies to reduce the risk of SIDS, and the primary recommendation was having babies sleep on their back. In the first 10 years after the campaign was implemented, SIDS deaths decreased by 50%. Since then, the numbers have hit a plateau and SIDS continues to be the leading cause of death in infants.
Chicago-based certified infant and child sleep consultant, Kim Schaf, agrees that parents should be aware of the multiple factors that increase the risk of SIDS. "I keep up-to-date with current sleep research and help tired parents make wise choices when it comes to their child's sleep environment." Through one-on-one sessions and group seminars, Schaf educates parents and develops a customized sleep plan that addresses their family's specific challenges, including helping parents set up a safe sleeping environment for their babies.
About Sleep Training Solutions
Sleep Training Solutions, a leading infant and child sleep consulting company based in the Chicago area, provides education and training to parents and caregivers in the Chicago area and across the country to resolve sleep problems in infants and children. Sleep problems that can be addressed include issues with bedtime, night wakings, naptime and early rising in infants and children up through age eight through private consultations and group seminars. A free 15-minute telephone evaluation is currently being offered to parents to discuss child's sleep situation and a free report on helping baby sleep through the night is available on the website. Find us on Facebook and Twitter.
About Kim Schaf
Kim Schaf is the Founder and President of Sleep Training Solutions and the Midwest Regional Director (USA) for the Association of Professional Sleep Consultants (APSC). After completing an extensive training and mentoring program with one of the world's most respected child sleep authorities, she became a Certified Infant and Child Sleep Consultant and offers expert guidance on behavioral sleep issues to parents across the country. She also provides community education on child sleep issues, leading workshops at preschools, day care centers, pediatrician offices and new mom groups. Kim has a Master of Arts degree in Teaching and is a member of the American Sleep Association and the North Suburban Children's Business Network. She lives in a northern suburb of Chicago with her husband and two small children, both of whom are excellent sleepers.
For more information
Contact: Kim Schaf, M.A.T.
(847) 386-6285
Kim(at)SleepTrainingSolutions(dot)com
Photo: Yanik Chauvin
###