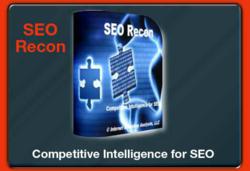 "..Cleverness and creativity have always helped the Davids compete with the Goliaths...SEO RECON and other IMA tools for web competitive analysis transforms the playing field to level terrain." Amy Munice, President of Global B2B Communications
Research Triangle Park, NC (PRWEB) March 30, 2012
Marketers, business development managers, sales executives, web specialists and all others seeking greater web visibility for their company to the greatest number of prospects despite search engines' algorithmic obstacles can now use the recently updated SEO Recon 2012--- the world's only widely available commercial software that dynamically maps the unique competitive landscapes for a company's product or service offerings.
SEO Recon 2012 provides what is arguably the world's most sophisticated use of artificial intelligence to systematically map a company's route to outperform competitors on the web. Priced at only $50/month (single license rate), SEO Recon levels the playing field for companies of all sizes-- making it possible for ANY company to systematically gain web visibility and traffic and be highly competitive on the web.
Amy Munice, President of Global B2B Communications, the world's first global PR agency to fully integrate SEO Recon and other IMA web competitive analysis tools into the development and execution of all client communications comments, "There is much talk of late regarding the low cost of entry for social media and other online marketing tactics. That is more talk than reality. Cleverness and creativity have always helped the Davids compete with the Goliaths. Companies with deep pockets for marketing tend to dominate because their marketing budgets are orders of magnitude larger than those of their smaller competitors. SEO Recon and other IMA tools for web competitive analysis transforms the playing field to level terrain. If a web professional invests time and energy to stay up-to-date on how search engines really work they know better than to try to reverse engineer Google or other search engines. When you understand how search engines really work you don't waste time with out-of-date SEO practices. SEO Recon, by my lights, is the most powerful tool in an internet marketer's arsenal."
SEO Recon 2012 replaces the former freely available link data provided by Yahoo' s Link Analyzer tool that was removed from the public domain as a by-product of the Yahoo and Bing merger. The modestly priced Majestic SEO is instead used for this data feed, and also providing numerous other quantitative tools that bear on website optimization and web marketing success.
SEO Recon 2012 also features the ability to research competitive landscapes in Singapore (i.e. Singapore.com domains), an area of increasing importance to global marketers targeting Asia.
One-month licenses for SEO Recon can be purchased at http://www.seosoftwaretrio.com
SEO Recon 2012:

Is available for only US $50/month—a license that can be cancelled at any time.
Is packaged with two other advanced website optimization tools: SEM S.C.O.U.T. (the only commercially available real-time writer's guide to overcoming personalized search barriers on global search engines; and SEO Sniper, a superior mathematical tool to identify verbiage providing best windows of opportunity to draw optimum traffic and minimum competition.
Provides easy to read measures of minimum and maximum on-page and off-page verbiage metrics required for greater web page visibility.
Identifies link sources with greatest impact in a specific web competitive landscape.
Shows otherwise unseen threats to site visibility – sometimes from competitors that do not even rank in the first five pages or more for a given search term! —in an easy to read graphical display.
Similarly identifies the weaknesses of many of the most visible web pages and provides step-by-step Flash display instructions on how to overtake these competitors.
About Michael Marshall, SEO Recon 2012 Developer and CEO of Internet Marketing Analysts LLC
An advisor to the US Patent Officers in charge of Internet-related patents on search engine technologies, Michael Marshall has more than two decades of experience in Artificial Intelligence and software development, e-commerce solutions and other Internet marketing specialties. He is a contributing author to SEO Today among other thought-leading publications about SEO and SEM, a widely quoted authority on search engine marketing, and a regular speaker at prominent industry events such as PubCon and the European Academy of Direct and Interactive Marketing. Widely recognized by professional web marketers at the most authoritative source on up-to-date Internet marketing practices, Mr. Marshall offers advanced instruction on web marketing on an ongoing basis. For updates on next classes write to 2012ClassCalendarUpdates(at)globalb2bcommunications(dot)com .