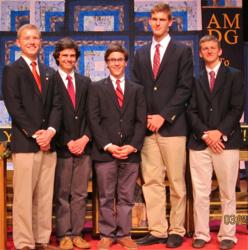 Our school's philosophy is to be "Men for Others." We can't think of a better way to practice that philosophy.
Buffalo, NY (PRWEB) March 31, 2012
Nearly 200 years ago, the Erie Canal was constructed for an important cause: to expand America's western settlement and facilitate commerce for economic prosperity. This summer, the Erie Canal will provide the path to another great cause when five young men from Canisius High School will row 320 miles over seven days to raise funds to combat Type I Juvenile Diabetes.
Canisius crew members Reid Yankowski, Jack Ruh, Mark Hirschbeck, Jack Sardinia and Sam Hausmann will launch from Alcathy's Boat Launch in Waterford on June 14. Supervised by Canisius High School Crew Head Coach Tom Flaherty, who will be following in a motorboat, the quintet will row an average of 45 miles per day until they reach Tonawanda Wall in Buffalo on June 23.
The idea to row for a cure was born when Yankowski was seeking a summer adventure and decided rowing the Eric Canal was the perfect challenge. He was inspired to turn the trek into a fundraiser for JDRF after speaking with rowing teammate Jack Ruh, whose sister, Katie Ruh, supported the cause in high school.
"With my fellow crewmates, I want to pick up where Katie left off and raise money for JDRF," said Ruh. "Giving back to one's community and helping others is one of the most important and worthwhile pursuits anyone can undertake, and by rowing the Erie Canal we hope to help raise awareness about this life-threatening disease and raise money to find a cure."
"JDRF is the right cause to row for," said Yankowski. "Many people and children in Western New York and the United States are affected by Type I Diabetes, but it's not something that most people recognize as a problem because it's overshadowed by charities directed toward other health issues. Hopefully our week rowing the Erie Canal will motivate good people to donate the funds needed to continue the research that will yield a cure."
Canisius High School Athletic Director Jim Mauro commended the crew members for their commitment to good will and representing the spirit of Canisius.
"The decision of these young men to undertake such a worthwhile endeavor embodies all of the best virtues of a Canisius student-athlete. Their desire to utilize their athletic talents to raise funds and further awareness for Juvenile Diabetes is truly consistent with the school's mission to be Men For Others," said Mauro. "In this day and age, I'm not sure how many young men you could find that would be willing to sacrifice a good portion of their summer vacations to raise funds for a needy cause."
Though only in their junior years, each of the rowers has a history of contributing to charitable causes. Yankowski helps support and assist Somali immigrants in Buffalo, Ruh helped build a Habitat for Humanity home in Florida, Sardinia and Hirschbeck are planning a service trip to build a bridge in the Dominican Republic and Hausmann has volunteered as a ski instructor for physically and mentally impaired children and adults at the Lounsbury Adaptive Ski Program.
"I'm thrilled to be taking part in such an exciting event for such a great cause," said Sardinia.
Hausmann echoed that sentiment: "I'm happy to be able to employ my skills as a rower to help research a cure for Juvenile Diabetes," he said. "I know from my work with Lounsbury how big an impact one person's efforts can make. Great strides have been made in research for a cure for Juvenile Diabetes, and I'm certain if we all work together, progress can be made to help those who are afflicted with this terrible disease."
Hirschbeck perhaps summed it up best: "Such an opportunity to give back to others using my God-given talents does not come along every day, so this is exciting beyond belief," he said. "I look forward to seeing this event progress into something bigger than our small group embarking on our journey and to proving that anybody can make a difference."
Help Cure Juvenile Diabetes By Sponsoring The Erie Canal Rowers
Juvenile Diabetes is a lifelong and life-threatening autoimmune disorder that strikes over 15,000 children every year – or 40 per day. Over three million Americans have Type I Diabetes, which is treated with insulin and can cause complications such as kidney failure, blindness, nerve damage, heart attack and stroke. Sponsorships from private individuals and companies are needed for research to treat and ultimately cure this disease.
The rowers have an ambitious goal of $50,000. Individuals are encouraged to sponsor the Erie Canal rowers by going online to http://bit.ly/rowcanal. All proceeds go to the Juvenile Diabetes Research Foundation to develop treatments and find a cure for juvenile diabetes. Corporate sponsors are asked to contact Maritza Ruh at 716-310-9666 for more information.
Start: Alcathy's Boat Launch
Day One: 50 miles, stop at lock E13
Day Two: 42 miles, stop at lock E19
Day Three: 50 miles, stop at Oneida Shores County Park
Day Four: 50 miles, stop TBA
Day Five: 43.5 miles, stop at lock E29
Day Six: 40.3 miles, stop TBA
Day Seven: 42 miles, finish at Tonawanda Wall
Juvenile Diabetes Research Foundation was founded by the parents of children with Type 1 Diabetes. JDRF's mission is constant: To find a cure for diabetes and its complications through the support of research. Since its founding in 1970, JDRF has awarded more than $1.6 billion to T1D research, including $116 million in FY2011. More than 80 percent of JDRF's expenditures directly support research and research-related education. Past JDRF research efforts have helped to significantly improve the care of people with this disease, and have expanded the critical scientific understanding of T1D. JDRF will not rest until T1D is fully conquered. For more information please visit http://www.jdrf.org.
Media Contact: Maritza Ruh
716-310-9666
mruh2(at)aol(dot)com
# # #