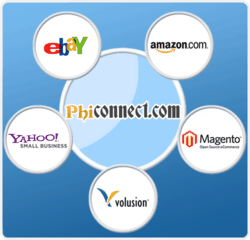 Online sellers can pass on savings of combined shipping
to their customers and this will increase sales a lot.
Los Angeles, CA (PRWEB) March 30, 2012
PhiConnect.com, a leading provider of e-commerce platforms, today announced the release of their new combined shipping feature. eBay and Amazon merchants will benefit by being able to combine and ship their orders which will save on postage fees. This new feature will improve efficiency for eBay, Amazon, Yahoo Store, Volusion and PhiConnect storefront module.
E-retailers are looking for an all-in-one solution to manage their multi-channels of sales. PhiConnect.com always offers the best multi-channel management solution for inventory contorol, order processing and shipping management. PhiConnect solution streamlines this process by importing orders, updating inventory, and printing shipping labels for US Postal Service and/or UPS. With this process, e-retailers lower their chance of receiving bad feedback due to late shipment or order cancellation due to stock shortage. E-retailers will also save time and money by importing all multi channel orders into one system that will expedite the shipping process.
Daniel Kim, team leader, stated that, "online sellers can pass on savings of combined shipping to their customers and this will increase sales a lot. Also, not like other shipping software, sellers can review sales history efficiently for marketing purpose later. They can pull out sales tax report, best customers, best selling items and etc. with ease."
PhiConnect.com also offers a free consultation and a free trial. An e-commerce specialist will have an online demo session with you with many suggestions and guidance.
About PhiConnect:
PhiConnect was developed by a Yahoo! Store user, eBay Titanium PowerSeller and Amazon seller, with 12 years experience. PhiConnect has helped many multi-million online sellers of multi-channels to reduce the time and labor of their inventory control, order processing and listing management. PhiConnect also offers an own storefront and shipping modules so sellers do not need to switch between different software. PhiConnect all-in-one platform can save time and money because online retailers will not need to subscribe to storefront, listing management, inventory control, order processing, and shipping module services separately.
PhiConnect's platform gives online retailers the ability to distribute their product to multiple marketplaces including eBay, Amazon, Buy.com, Google Product Search, Shopping.com, PriceGrabber, and Shopzilla. Additionally, PhiConnect's automatic SEO feature can generate meta keywords, meta description, and URL rewrite automatically for search optimization for Google and Yahoo. For further information, please visit PhiConnect.com.