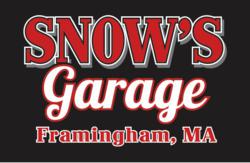 "We've been in business for over 100 years and the credit goes to our customers." - Casey Snow, Owner
Framingham, MA (PRWEB) March 30, 2012
For well over a century, Snow's Garage has been the name customers can depend on for quality auto care. Their family owned auto repair shop features nine bays in operation to best serve their customers, and offers a complete selection of auto maintenance and repair services. From oil changes to engine and transmission repairs and everything in between, the professional team at Snow's Garage get their customers back on the road in no time.
Snow's Garage also offers a full range of services outside the shop as well. With their 24/7 towing and roadside assistance, customers never have to worry about being stranded with a broken down vehicle. From flat tires, lockouts, and jump starts to full service towing and more, the team at Snow's Garage and Smitty's Towing are always ready to help. Trucks are on standby around the clock for prompt, efficient service from Boston to Worcester and everywhere in between.
Snow's Garage is proud to be the oldest automotive shop in Framingham, and with over 100 years in the auto repair industry and more than 20 years of experience in towing and roadside assistance, they are able to provide customers with a full spectrum of services. A key to Snow's Garage's longevity is their commitment to putting the needs of the customer first. As Casey Snow, the owner of Snow's Garage, says, "We've been in business for over 100 years, and the credit goes to our customers."
From full service auto repair to dependable towing and roadside assistance, Snow's Garage does it all, and they look forward to another 100 years of serving their customers.
About the Company:
Snow's Garage was founded in 1903 to service automobiles and was one of the first auto garages established in Framingham, MA. Prior to this, Snow's was a service station for wagons. Over the years as cars evolved, so did Snow's Garage. They purchases Smitty's Towing and began to offer roadside assistance. Today, Snow's Garage continues to honor its tradition of providing excellent automotive repair and is optimistic about the future. Visit our website for more info at http://www.snowsgarage.com.